Bangladesh Medical College Uttara
Bangladesh Medical College Uttara (BMC) Is The First Private Medical College In Bangladesh. It Was Established In 1986 By A Group Of Dedicated People Called The Founder Members. They Were Imbued With The Ideals Of Providing Quality Medical Education, Research, And Services To The People Of This Country At A Reasonable Cost. The College And The Hospital are Run By Bangladesh Medical Studies And Research Institute (BMSRI) Which Is A Non-Political And Non Profitable Organization. The Members Of The Institute Are Not Entitled To Any Remuneration Or Dividends. Geneva Declaration (12 October 1949)
About Bangladesh Medical College
Location:
Year of Establishment
1986
Date of Commencement of classes of First Batch
1 July 1987
Course Offered
MBBS (Dhaka University)
Curriculum
Bangladesh Medical and Dental Council curriculum was adopted by the Faculty of Medicine, Dhaka University in 2002.
Academic Year
January to July next year
Admission Time
December
Class Hours
7.30 AM to 2.30 PM with an interval between 10.30 AM and 11 AM. For clinical students, there are two hours of evening classes in the Hospital.
Affiliation of the College
The College has been affiliated with Dhaka University as a constituent college since 10 May 1988. Recognized by WHO.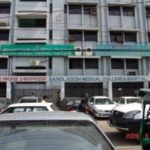 Recognition of the College
College Accommodation
The College and the attached Hospital in Dhanmondi Campus are accommodated in two 6 storied buildings with arrangements for 500 inpatients. The new building of the Hospital called the Community Welfare and Health Care Centre (CCC), is built to international standards. It has an excellent Outpatient Department in addition to Inpatient facilities. The College also has a modern Accident and Emergency Department. The College has recently acquired a large and modern mobile hospital with a fully air-conditioned operation theatre, patient examination, and treatment arrangements.
Classrooms
There are 5 large fully air-conditioned classrooms with closed-circuit televisions for lectures. In addition, there are departmental tutorial rooms attached with the respective departments. The Anatomy Dissection Hall is fully air-conditioned. The laboratories of various departments like Pathology, Biochemistry, etc are well equipped with instruments.
Audiovisual Equipment
Each class is provided with an overhead projector, slide projector, and microphone system. In addition, multimedia projectors and computers are also available for teaching.
Library
The College has a modern fully air-conditioned library located on the first floor. The library has a collection of over 6674 books including expensive latest monographs. It subscribes to 16 international medical journals on an annual basis. The library has accommodation for seating 100 students and 15 teachers at any given time. The Medical Education Unit (MEU) is attached to the library. MEU has 5 computers for use by students and faculty members. Fax, Internet, and E-mail facilities are freely available and are widely used. MEDLINE database (1966 to current) is available on CD Roms and online through the Internet. Teaching materials are also available on CD Rom and videocassettes.
History Of College
Bangladesh Medical College (BMC) Is The First Private Medical College In Bangladesh. It Was Established In 1986 By A Group Of Dedicated People Called The Founder Members. They Were Imbued With The Ideas Of Providing Quality Medical Education, Research, And Services To The People Of This Country At a Reasonable Cost. The College And The Hospital Are Run By Bangladesh Medical Studies And Research Institute (BMSRI) Which Is A Non-Political And Non-Profitable Organization. The Members Of The Institute Are Not Entitled To Any Remuneration Or Dividends.
Admission Process For Foreign Students
The government of Bangladesh sets the rules and procedures for the admission of foreign students to all public and private medical colleges within its territory. Following are the steps you need to take to get admitted into Bangladesh Medical College (BMC).
1. If you have the passport of a country having a diplomatic relationship with Bangladesh you can apply for admission in the MBBS course (Bachelor of Medicine & Surgery) in one of the public or private Medical Colleges in Bangladesh.
2. You must have 12 years of schooling, and your grades must have to be matched (Equivalency) with the Bangladeshi counterpart- SSC (Secondary School Certificate) & HSC (Higher Secondary School Certificate).
3. Your eligibility criteria for admission to the MBBS course:
a. O-level (Equivalent to SSC) certificate: Minimum 5 subjects
b. A-level (Equivalent to HSC) Certificate: Must have Physics, Chemistry, and Biology.
c. the USA 12 grade completion certificate: Must have Physics, Chemistry, and Biology.
d. Minimum GPA (After equivalency with SSC & HSC)= 7 (seven)
e. Minimum GPA in Biology= 3.5
4. You have to undergo the following steps if you decide to get admitted into BMC.
a. Get the photocopies of the following documents attested from the foreign ministry of your country:
i. School/College graduation certificates
ii. Mark/grade sheet
iii. School leaving certificate (Testimonial)
iv. Copy of Passport
v. Two passport-size photographs of the applicant
b. Download 'The MBBS admission form' from the website of the Bangladesh Foreign Ministry(www.mofa.gov.bd) and fill it up. You must mention your medical college of choice.
c. Pay $60 (Subject to change) in any bank in your country in favor of DGHS and get the receipt. (For more info. visit www.dghs.gov.org)
d. Deposit your attested documents, bank receipt, and filled admission form to the Bangladesh Embassy of your country for processing of Grade Equivalency and permission from the Government of Bangladesh. You can do this job by yourself or by an agent.
e. Send copies of your certificates, mark sheets, passport, and a letter of intent to the Bangladesh Medical College office (Email or post) for advance booking of your seat.
5. Having received the permission letter from the Ministry of Foreign Affairs and the grade equivalency of your certificates, Bangladesh Medical College (BMC) office would inform you and proceed with your admission.
6. Admission fee structure for the session is as follows (change might occur according to the decision of Governing Body).
a. $25,000 down payment b. $6,000/year x 4 (Mode of payment would be informed)
FOR ADMISSION AND OTHER QUARRIES, CONTACT:
AUTHORIZED REPRESENTATIVE
HEADOFFICE :
23/C, Zigatola, Dhaka, Bangladesh.
MOBILE & WHATSAPP: +88-01995529533
OFFICES IN INDIA:
MOBILE & WHATSAPP: +91-9903355537
WEST BENGAL, MODON MOHON STREET, KOLKATA, PATNA, BIHAR, DELHI, JAMMU & KASMIR, HYDERABAD, LUCKNOW, CHENNAI, AND GUWAHATI.
There are various options to pursue MBBS from abroad apart from MBBS in Bangladesh. Such options include:
MBBS in Australia
MBBS in Russia
MBBS in Ukraine
MBBS in Canada
MBBS in the Philippines
MBBS in Georgia
MBBS in the Caribbean
MBBS in Germany
MBBS in China
MBBS in Kyrgyzstan
MBBS in Nepal
MBBS in Belarus
MBBS in Kyrgyzstan
MBBS in Nepal
MBBS in the Caribbean
MBBS in Poland
MBBS in Malaysia
MBBS in Europe
MBBS in Italy
MBBS in Romania