Free Seminar about MBBS in Bangladesh
Meet directly with our Honorable Chief Guest,  Maj. General Prof. Dr. Harunur Rashid (Retd.) The Principle of Holy Family Red Crescent Medical College, by attending our free seminar and know about the facilities to study MBBS in Bangladesh.
7th July 2018, Time: 10 am to 5 pm
Venue: Hotel Pamposh Regal Chowk Srinagar J&K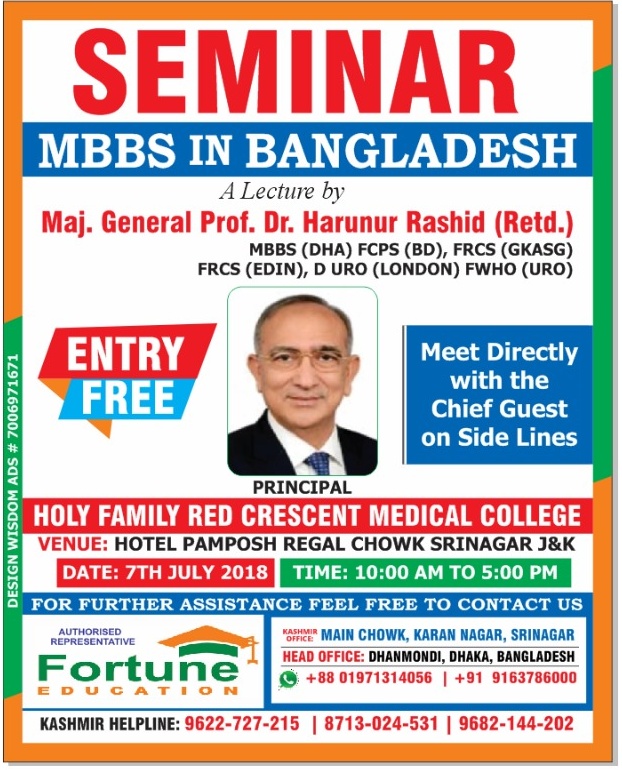 (Online /Direct Admission & Seat Confirmation)
FOR ADMISSION AND OTHER QUARRIES, CONTACT:
Authorized Representative
HEAD OFFICE :
DHAKA, BANGLADESH.
MOBILE & WHATSAPP: +88-01995529533
---
OFFICES IN INDIA:
MOBILE & WHATSAPP: +91-9903355537
WEST BENGAL, MODON MOHON STREET, KOLKATA,
PATNA, BIHAR, DELHI, JAMMU & KASMIR,
HYDERABAD, LUCKNOW, CHENNAI, AND GUWAHATI.