[vc_row][vc_column][vc_empty_space height="20px"][vc_column_text]
Parkview Medical College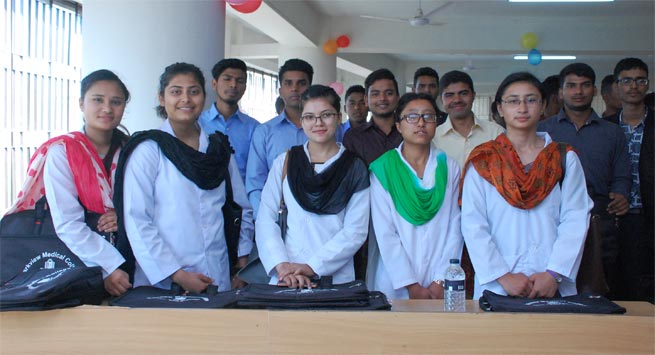 Park View Medical College, Sylhet, Exclusive College Representative, Fortune Education, Dhanmondi, Dhaka-1209, Bangladesh, Contact: +8801995529533
HISTORY
With a view to establish a new Medical College& Hospital in an attempt to produce expert health manpower as well as to provide a low cost but without compromising 'quality' to provide optimum health care, a group of noble dreamers got together by 2008 under the banner of Parkview Health Care Pvt Ltd & Associates of Parkview Health Care Pvt Ltd. As a consequence, Parkview Medical College has opened its door with the 1st batch of students of MBBS course from January 2014. Parkview Medical College has started its academic activities with sufficient teachers in all three preclinical departments of Phase-1(Anatomy, Physiology, and Biochemistry), headed by well reputed senior teachers with a bunch of young, energetic & committed junior teachers. Hospital has set up a low-cost specialized treatment facility for the common people which will eventually take shape of a center of excellence in Bangladesh. There is the specific target to create by phases all modern medical techniques and facilities and bring down the cost of treatment to an affordable range for the common people of the country without comprising the standard and quality of service. Now Parkview medical College & Hospital is providing round the clock emergency medical services with the help of its own doctors and specialists. There is service for outdoor patients with the help of concerned consultants. In the beginning, there are facilities of 250 beds for indoor patients in the Hospital and subsequently, it will be increased up to 500-bed facilities by stages.
ADMISSION
---
Admission procedure
Candidates for admission are selected through an admission test conducted by Directorate General of Health Services (DGHS), Government of Bangladesh. Notice for admission of students into the first-year class is advertised in due course in the daily newspapers and website. Selection is made as per government directives on the basis of merit score/position of admission test conducted by DGHS. Selection in poor merit quota is made strictly as per government directives.
The college offers five years MBBS course and one-year internship training in Parkview Medical College & Hospital as required by Bangladesh Medical & Dental Council (BMDC) leading to MBBS degree of the Shahjalal University of Science and Technology. The academic session for Ist year MBBS course shall be from January each year or as suggested by Government. During the five years course the Shahjalal University of Science and Technology (SUST) will conduct four Professional examinations, namely:
i) The first Professional MBBS examination at the end of 1.5 years.
ii) The second Professional MBBS examination at the end of 2.5 years.
iii) 3rd Professional MBBS examination at the end of 3.5 years.
iv) The final Professional MBBS examination at the end of 5 years.
The examinations will be held in the first week of May and November each year or as determined by the university. Course and curriculum are those developed and passed by BMDC and adopted by SUST.
[elementor-template id="6064″][/vc_column_text][/vc_column][/vc_row]