Fortune Education, Authorized Representative of 50+ Medical Colleges in Bangladesh & Abroad also Anwer Khan Modern Medical College. For Admission/Seat Confirmation & others processing Contact: +8801995529533, India: +91-9903355537
Anwer Khan Modern Medical College Dhaka, Bangladesh Affiliated with University of Dhaka
For Indian students aspiring to pursue a career in medicine, Bangladesh has emerged as an excellent destination to pursue an MBBS degree. With its high-quality education system, affordable tuition fees, and cultural proximity, Bangladesh offers a golden opportunity for Indian students to fulfill their dreams of becoming doctors. Fortune Education, a trusted educational representative, plays a pivotal role in assisting Indian students throughout the admission process, making their journey to study MBBS in Bangladesh seamless and hassle-free.
Academic Excellence and International Recognition:
Bangladesh is home to several renowned medical universities that maintain excellent academic standards. These universities offer a comprehensive and globally recognized MBBS curriculum that adheres to international benchmarks. Recognized by the Medical Council of India (MCI), the degrees obtained from these universities allow Indian students to practice medicine in India after clearing the necessary screening tests.
Affordable Tuition Fees and Cost-Effective Education:
One of the major advantages of studying MBBS in Bangladesh is the affordable tuition fees compared to private medical colleges in India. Indian students, who often face financial constraints, find Bangladesh a cost-effective option without compromising on the quality of education. With the assistance of Fortune Education, students can explore various universities in Bangladesh and select the one that best fits their budget and requirements.
Expert Guidance and Comprehensive Support:
Fortune Education serves as a trusted guide and representative for Indian students seeking admission to medical universities in Bangladesh. The experienced and knowledgeable team at Fortune Education provides comprehensive support throughout the admission process. They assist students in choosing the right university, help with document verification and submission, and facilitate communication between students and the universities. Fortune Education's personalized guidance ensures that Indian students have a smooth and stress-free experience.
No Entrance Examinations:
Unlike the highly competitive entrance examinations in India, many medical universities in Bangladesh do not require students to clear any entrance test for MBBS admissions. This relieves Indian students from the pressure of preparing for multiple entrance exams and offers them a fair chance to secure admission based on their academic performance. Fortune Education helps Indian students navigate through the admission requirements and ensures that they meet the eligibility criteria set by the universities.
English-Medium Instruction and Language Support:
Language can often be a concern for Indian students seeking education abroad. However, most medical universities in Bangladesh offer English-medium instruction, making it easier for Indian students to adapt and excel in their studies. Fortune Education assists students in identifying universities that provide English-medium programs and ensures that language support is available throughout the academic journey, eliminating any language barriers.
Cultural Proximity and Familiar Environment:
Bangladesh shares cultural and geographical similarities with India, providing a familiar and comfortable environment for Indian students. The closeness in culture, language, and lifestyle helps Indian students quickly adjust to the new surroundings and focus on their studies. Additionally, the proximity allows students to easily visit their families during holidays or emergencies, providing a sense of security and support.
Post-Graduation Opportunities and Career Guidance:
Fortune Education not only assists Indian students with the admission process but also provides valuable guidance and support for post-graduation opportunities. They help students explore options for specialization, residency programs, and career advancement in India and abroad. The dedicated team at Fortune Education ensures that Indian students are well-informed about their future prospects and equipped to make informed decisions about their medical careers.
In conclusion, studying MBBS in Bangladesh offers Indian students a remarkable opportunity to receive high-quality education at an affordable cost. With Fortune Education's expertise and support, Indian students can seamlessly navigate the admission process, select the right university, and embark on their journey towards a successful medical career. Bangladesh's academic excellence, affordable fees
INTRODUCTION: ANWAR KHAN MODERN MEDICAL COLLEGE
The Anwer Khan Modern Medical College is the private medical Hospital in Bangladesh. It was established in 2008 by a group of dedicated people called the founder members who were imbued with the ideals of providing quality medical education, research, and services to people of this country at a reasonable cost.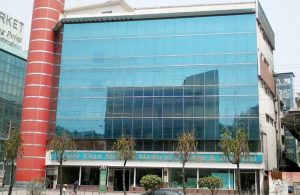 The Anwer Khan Modern Medical College and the Hospital are run which is a non-political and nonprofitable organization. The members of the Institute are not entitled to any remuneration or dividends.
Anwer Khan Modern Medical College
Reaching health care to every citizen is a millennium development goal and Bangladesh has achieved a great success in this.
The present government has developed the healthcare system from union Parishad to Upazilla, District, Divisional level through community health clinic, Upazilla health complex, District & Divisional Hospital and Medical College Hospital both government & private
Doctors and supporting health care professionals like a nurse, Paramedics, auxiliary staff, Technologists are the backbone of the health care delivery system. At present, the doctor-population ratio in Bangladesh is only 1:3125.
Till now the available seats in medical colleges, public & private sector together is far short of meeting the requirement of the country. In our country, a large number of students are willing to take part in the health care system, which is evidenced by a large number of applicants for admission tests in medical colleges.
Anwar Khan Modern Medical College: Revolutionizing Medical Education in Bangladesh
Anwar Khan Modern Medical College (AKMMC) stands as a testament to excellence and innovation in medical education in Bangladesh. Located in Dhanmondi, Dhaka, the college is named after the renowned philanthropist and social worker, Late Anwar Khan, who dedicated his life to improving healthcare access for the underprivileged. Established in 2008, AKMMC has quickly risen to prominence, earning a reputation for its commitment to quality education, cutting-edge facilities, and compassionate healthcare services.
One of the distinctive features of Anwar Khan Modern Medical College is its holistic approach to medical education. The college strives to develop well-rounded healthcare professionals who possess not only excellent clinical skills but also a deep sense of empathy and social responsibility. The curriculum is designed to instill a strong foundation in the basic and clinical sciences while emphasizing the importance of patient-centered care.
The faculty members at AKMMC are highly qualified and experienced, comprising distinguished clinicians, researchers, and educators. They are committed to providing students with comprehensive guidance and mentorship throughout their academic journey. The small faculty-to-student ratio ensures personalized attention and fosters an environment conducive to interactive learning and intellectual growth.
AKMMC boasts state-of-the-art facilities that create a stimulating learning environment for students. The college is equipped with modern laboratories, well-stocked libraries, and multimedia classrooms that facilitate effective teaching and learning. The anatomy and physiology labs are equipped with cutting-edge equipment, enabling students to gain hands-on experience and develop a deep understanding of the human body.
In addition to its exceptional academic offerings, AKMMC places a strong emphasis on research and innovation. The college encourages students and faculty members to engage in research activities, allowing them to contribute to the advancement of medical knowledge. Regular research symposiums and conferences are organized to provide a platform for the dissemination of scientific findings and foster a culture of inquiry within the college.
AKMMC is affiliated with Anwar Khan Modern Hospital, a 650-bed multidisciplinary tertiary care hospital situated adjacent to the college. This unique integration allows students to gain practical experience and exposure to a wide range of medical conditions right from the early stages of their education. The hospital boasts advanced diagnostic and treatment facilities, including state-of-the-art operation theaters, intensive care units, and specialized departments such as cardiology, neurology, and orthopedics.
One of the standout features of AKMMC is its focus on community engagement and outreach. The college, in collaboration with Anwar Khan Modern Hospital, conducts regular medical camps and health awareness programs in rural and underserved areas. These initiatives not only provide essential healthcare services to those in need but also expose students to diverse patient populations and the challenges faced in delivering healthcare in resource-limited settings.
Furthermore, AKMMC is deeply committed to promoting medical ethics and professionalism among its students. The college emphasizes the importance of ethical conduct, integrity, and respect for patients' rights and confidentiality. Through regular ethics workshops and role-playing exercises, students are prepared to navigate complex ethical dilemmas that may arise in their medical careers.
AKMMC also recognizes the significance of extracurricular activities and the overall well-being of its students. The college has a vibrant student body that organizes various cultural, sports, and social events throughout the year. These activities foster a sense of camaraderie and provide a platform for students to showcase their talents and unwind from the demanding academic curriculum.
The alumni network of AKMMC is a testament to the college's success in producing competent and compassionate healthcare professionals. Graduates of the college have made significant contributions in various specialties and healthcare sectors, both nationally and internationally. The alumni association serves as a support system for current students, providing mentorship, career guidance
Anwar Khan Modern Medical College: Empowering Future Healthcare Professionals with Fortune Education
Anwar Khan Modern Medical College (AKMMC) has been at the forefront of medical education in Bangladesh, providing students with a comprehensive and innovative learning experience. In its pursuit of excellence, AKMMC has partnered with Fortune Education, a renowned educational representative, to further enhance its educational offerings and extend its reach to students worldwide.
Located in Dhanmondi, Dhaka, AKMMC is dedicated to equipping students with the knowledge, skills, and compassion required to excel in the medical field. The college takes pride in its commitment to academic excellence, state-of-the-art facilities, and holistic development of its students. By collaborating with Fortune Education, AKMMC aims to broaden its global presence and attract talented students from diverse backgrounds.
Fortune Education has established itself as a trusted representative, connecting educational institutions with students from around the world. Through this partnership, AKMMC gains access to Fortune Education's extensive network, allowing the college to showcase its strengths and unique offerings to a wider international audience. The collaboration facilitates the exchange of knowledge and cultural experiences, enriching the academic environment at AKMMC.
The association between AKMMC and Fortune Education provides international students with an opportunity to pursue a high-quality medical education in Bangladesh. By opening its doors to students from different countries, AKMMC fosters a diverse and inclusive community, promoting a global perspective in healthcare education. This cultural diversity contributes to a vibrant learning environment, where students gain exposure to various perspectives and develop cross-cultural communication skills.
AKMMC, with the assistance of Fortune Education, offers a comprehensive curriculum that encompasses both theoretical knowledge and practical training. The faculty members, renowned experts in their respective fields, provide students with personalized guidance and mentorship, ensuring a nurturing learning environment. The college's laboratories and simulation centers are equipped with cutting-edge technology, allowing students to acquire hands-on experience and develop clinical proficiency.
Research and innovation are key components of AKMMC's educational philosophy, and the partnership with Fortune Education further supports this commitment. The college encourages students and faculty to engage in research activities that contribute to the advancement of medical science. Through collaborative projects and participation in scientific conferences, AKMMC students have the opportunity to make significant contributions to the field of medicine.
Beyond academic pursuits, AKMMC places great importance on community engagement and social responsibility. The college, together with Fortune Education, organizes medical camps and health awareness programs, reaching out to underserved communities. These initiatives not only provide valuable healthcare services to those in need but also instill a sense of compassion and empathy in AKMMC students, preparing them to be socially conscious healthcare professionals.
AKMMC's collaboration with Fortune Education extends to career guidance and post-graduation opportunities. Fortune Education assists AKMMC students in exploring various avenues for further specialization and professional growth. The partnership opens doors to global internships, fellowships, and employment opportunities, ensuring that AKMMC graduates are well-prepared to embark on successful careers in the medical field.
In conclusion, the collaboration between Anwar Khan Modern Medical College and Fortune Education represents a significant milestone in the college's pursuit of excellence in medical education. AKMMC's commitment to academic rigor, research, community engagement, and student development is further amplified through its partnership with Fortune Education. By expanding its global outreach and attracting a diverse student body, AKMMC continues to empower future healthcare professionals to make a positive impact on the world of medicine.
Unfortunately, most of the eligible candidates are deprived of the opportunity of getting admitted in the medical colleges of Bangladesh due to lack of enough seats:
Career planning of the eligible candidates, whose desires and dreams were quite appropriate and invaluable to the needs of the country.
Migration of thousands of students for studies abroad, mainly in the neighboring countries resulting in a constant drain of the national economy for supporting studies.
Social strains in the families concerned.
Long term deleterious consequences on national health care delivery.
Dependence on other countries for education and health care delivery. The overall impact overshadows out image and dignity as an independent nation.
The cost of medical education is higher in developed and developing countries in comparison to Bangladesh. Ministry of health has sanctioned 50% of the total seat for admission of foreign students in private Medical College with the existing facilities we can admit foreign students who can avail quality medical education at an economically competitive price.
Foreign Students Fees Structure:
Click here to see the Fees Structure of Anwer Khan Modern Medical College
Fortune Education offering on spot direct admission with 100% seat confirmation * Affordable low fees * 5 Years Installments facility
Fortune Education, as a recognized medical admission consultant, offers online direct MBBS admissions in reputed medical colleges abroad. With their expertise, extensive network, and comprehensive support services, they assist students in fulfilling their dreams of studying medicine and embarking on a successful medical career.

Online /Direct Admission & Seat Confirmation

FORTUNE EDUCATION
Head Office:
23/C, Zigatola, Dhaka, Bangladesh.
Mobile & WhatsApp: +88-01995529533
Offices in India: Delhi, Tamil Nadu, Assam, Jammu & Kashmir
Mobile & WhatsApp: +91-9903355537
www.fortuneeducationconsultancy.com