Fortune Education, Authorized Representative of 50+ Medical Colleges in Bangladesh & Abroad also Anwer Khan Modern Medical College. For Admission/Seat Confirmation & others processing Contact: +8801995529533, India: +91-9903355537
Anwer Khan Modern Medical College Dhaka, Bangladesh Affiliated with University of Dhaka
INTRODUCTION: ANWAR KHAN MODERN MEDICAL COLLEGE
The Anwer Khan Modern Medical College is the private medical Hospital in Bangladesh. It was established in 2008 by a group of dedicated people called the founder members who were imbued with the ideals of providing quality medical education, research, and services to people of this country at a reasonable cost.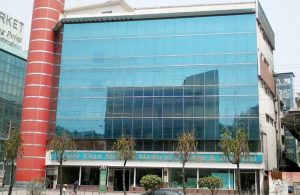 The Anwer Khan Modern Medical College and the Hospital are run which is a non-political and nonprofitable organization. The members of the Institute are not entitled to any remuneration or dividends.
Anwer Khan Modern Medical College
Reaching health care to every citizen is a millennium development goal and Bangladesh has achieved a great success in this.
The present government has developed the healthcare system from union Parishad to Upazilla, District, Divisional level through community health clinic, Upazilla health complex, District & Divisional Hospital and Medical College Hospital both government & private
Doctors and supporting health care professionals like a nurse, Paramedics, auxiliary staff, Technologists are the backbone of the health care delivery system. At present, the doctor-population ratio in Bangladesh is only 1:3125.
Till now the available seats in medical colleges, public & private sector together is far short of meeting the requirement of the country. In our country, a large number of students are willing to take part in the health care system, which is evidenced by a large number of applicants for admission tests in medical colleges.


Unfortunately, most of the eligible candidates are deprived of the opportunity of getting admitted in the medical colleges of Bangladesh due to lack of enough seats:
Career planning of the eligible candidates, whose desires and dreams were quite appropriate and invaluable to the needs of the country.
Migration of thousands of students for studies abroad, mainly in the neighboring countries resulting in a constant drain of the national economy for supporting studies.
Social strains in the families concerned.
Long term deleterious consequences on national health care delivery.
Dependence on other countries for education and health care delivery. The overall impact overshadows out image and dignity as an independent nation.


The cost of medical education is higher in developed and developing countries in comparison to Bangladesh. Ministry of health has sanctioned 50% of the total seat for admission of foreign students in private Medical College with the existing facilities we can admit foreign students who can avail quality medical education at an economically competitive price.
Foreign Students Fees Structure:
Click here to see the Fees Structure of Anwer Khan Modern Medical College
Fortune Education offering on spot direct admission with 100% seat confirmation * Affordable low fees * 5 Years Installments facility