Army Medical College Bangladesh Tuition Fees
Army Medical College Bogura
Under Army Medical College bangladesh have five private army medical college owned by Army Welfare Trust (AWT) of Bangladesh Army. AMC  approval of Ministry of Health & Family Affairs and is functioning directly under the supervision of Army Welfare Trust (AWT of Bangladesh Army & Area HQ.This college is affiliated with BUP and BMDC. BMDC curriculum is followed and examination is conducted as per the policies and guideline of BUP.
 Eligibility for Army Medical College Admission Circular
Check your eligibility for Admission. Here is the detailed information for admission requirements.
Fortune education is the exclusive authorized Representative for Army Medical College.Processing direct admission with one-stop services.Contact: Mobile & WhatsApp: +8801995529533, India: +91-9903355537
Army Medical Colleges in Bangladesh:
The Army Medical Colleges in Bangladesh are part of a series of initiatives taken by the Bangladesh Army to provide high-quality medical education and research. These institutions are reputed for their rigorous curriculum, state-of-the-art facilities, and a disciplined environment, which makes them stand out in the country.
Army Medical College Bogura
Location: Bogura, one of the prominent cities in the northern part of Bangladesh.
Overview:
AMC Bogura is known for its excellent educational environment, merging the discipline of the military with the rigor of medical education.
The college provides a comprehensive MBBS program with a blend of theoretical knowledge and hands-on clinical training.
Facilities like modern classrooms, well-equipped laboratories, and a vast library are part of the institution.
The teaching hospital associated with the college offers students real-time clinical exposure, ensuring they're well-prepared to serve in various medical capacities upon graduation.
Army Medical College Jashore (Jessore):
Location: Jashore (often also spelled Jessore), a significant city in the southwestern part of Bangladesh.
Overview:
AMC Jashore is another feather in the cap of the Bangladesh Army's commitment to fostering top-notch medical professionals.
Like its counterpart in Bogura, the college in Jashore offers an MBBS program designed to international standards.
The campus boasts state-of-the-art facilities, ensuring students have access to the latest in medical education technology and resources.
Its associated teaching hospital is equipped with modern medical tools, providing students with the opportunity to understand and manage various clinical conditions.
Common Features of Both Colleges:
Faculty: Both institutions pride themselves on having a team of dedicated, experienced, and highly qualified faculty members.
Discipline: Being under the aegis of the Bangladesh Army, discipline in academic and co-curricular activities is a hallmark of these institutions.
Extracurricular Activities: Beyond academics, the colleges encourage students to participate in various extracurricular activities, ensuring holistic development.
If you're looking for more detailed or recent information, I'd recommend contacting the respective colleges directly or checking their official websites. Remember, the curriculum, facilities, and other aspects can evolve over time, and direct communication with the institution would provide the most accurate and up-to-date insights.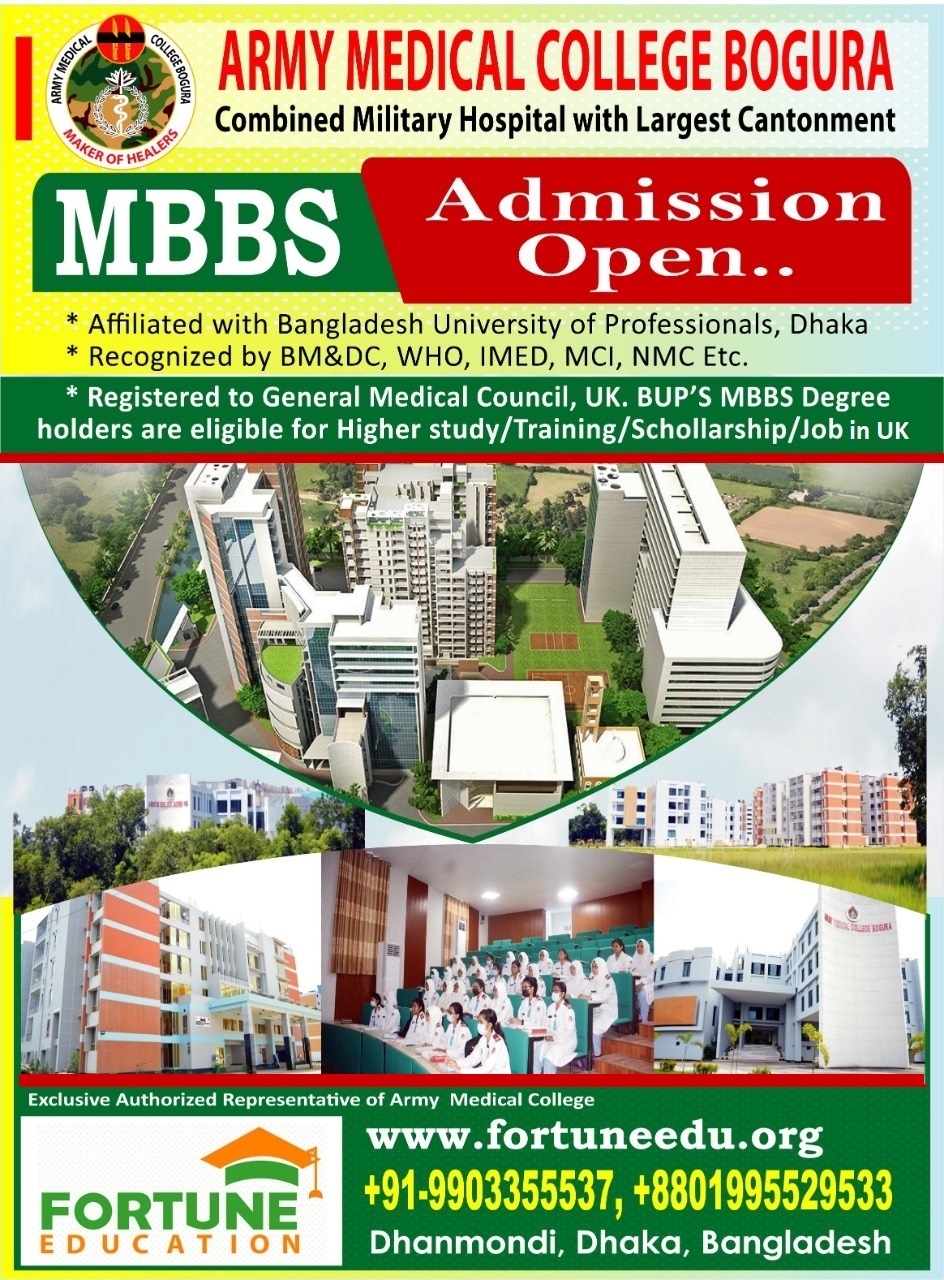 Educational Qualification
The AMC Cadets must have a total GPA of 10.00 (SSC-5.00, HSC-5.00) and must have a minimum GP(Grade Point) of 3.50 in Biology in HSC or its equivalent examinations.
 Eligibility
Age: must be a minimum of 20 years on 13 March 2021.
Sex: Male/Female will get a chance for admission.

Marital Status: Unmarried

Nationality: The candidate must be Bangladeshi by birth.
Army Medical College Bangladesh Tuition Fees
Us $ 47,000 (Including Ac Hostel, Food, Transport & Laundry and more)
Vision
To be the centre of excellence in imparting medical education and to foster an environment that is conducive for quality learning.
Mission
To strive universally to achieve the objectives of the college.

To impart academic excellence in medical education.

To inculcate high moral, ethical and professional standard among the students.

To ensure an effective and practical learning environment that is aligned with the needs of the society
Fortune education is the exclusive authorized mbbs admission consultancy for army medical college Bogura.We provide all the details of admission.There are many firms around and they have a variety  offers but not all of them can give you the desired results.You will have better results if you work with Fortune education to get admission into any college of your choice.We provide you best packages and services to mbbs aspirants.
Fortune Education has legal rights to process admission to Medical, Dental colleges and universities all over the world. We offer MBBS, BDS & others Admission, Application, Guidance, Documentation, and required services such as to eligible students regarding medical and higher studies…Fortune Education invites students to register for MBBS & BDS admission with a special Scholarship for the academic year 2022-23.
Authorized Representative
DHAKA, BANGLADESH.
MOBILE & WHATSAPP: +88-01995529533
---
OFFICES IN INDIA:
MOBILE & WHATSAPP:  +91-9903355537