Top 10 Medical Colleges in Bangladesh-2
Army Medical College Jashore
Discipline Meets Medical Excellence
The Bangladesh Army has always been a symbol of discipline, dedication, and service. Army Medical College Jashore embodies these values, ensuring that every medical student is not just academically proficient but also instilled with a character that reflects these principles. Established with the vision of combining the rigorous discipline of the army with medical education, the college is located in the heart of Jashore.
The infrastructure of the college is state-of-the-art, with labs equipped with the latest technology. Students gain practical experience in the affiliated hospital, ensuring they are well-prepared for real-world challenges. The faculty consists of renowned doctors and professors, many of whom have served in the army and understand the essence of discipline and service.
Students at Army Medical College Jashore undergo a comprehensive curriculum that covers not just the medical sciences but also aspects of ethics, communication, and community service. This balanced approach ensures that they are well-prepared for the challenges of the medical profession, whether it's in a civilian setting or serving the armed forces.
With a legacy of producing some of the best medical professionals in the country, Army Medical College Jashore continues to attract students who want a blend of academic excellence and character development.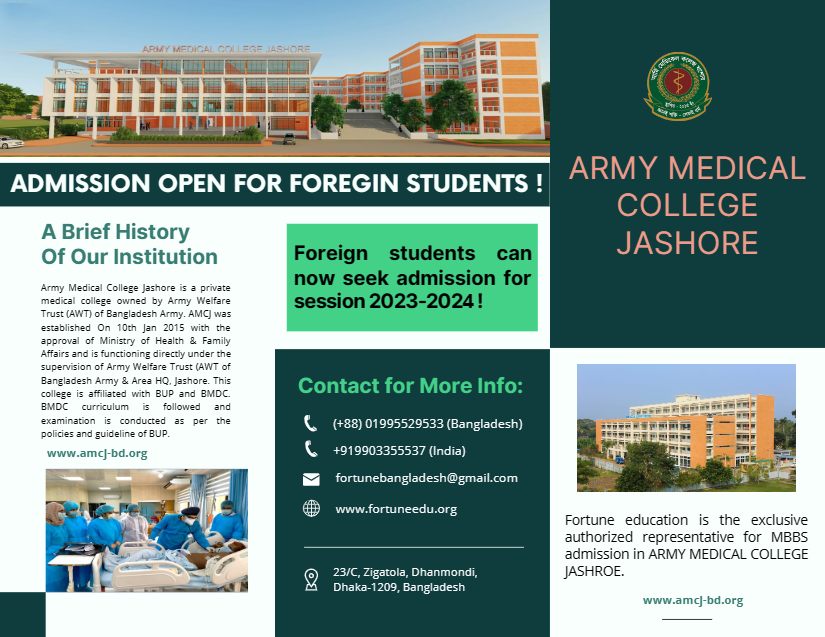 Army Medical College Bogura
Where Precision and Medical Mastery Intersect
Army Medical College Bogura stands as a testament to the Bangladesh Army's commitment to advancing medical education in the country. Situated in the bustling city of Bogura, this institution has quickly risen through the ranks to be recognized as one of the top medical colleges in Bangladesh.
The college's architecture itself speaks volumes about its vision – modern, sustainable, and equipped to handle the dynamic needs of medical education. Every classroom and lab is designed to foster an environment of learning and innovation. The affiliated hospital is where students get to translate their theoretical knowledge into practical skills. With a variety of departments and experienced doctors, the hospital serves as the perfect training ground.
A unique aspect of Army Medical College Bogura is its emphasis on holistic development. Beyond the regular medical curriculum, students are encouraged to participate in co-curricular activities, be it sports, arts, or community service. The faculty, comprising esteemed academicians and practitioners, emphasize the importance of ethics, communication, and continued learning.
Graduates from Army Medical College Bogura are not just medical professionals – they are leaders, innovators, and individuals of character.
https://fortuneedu.org/2023/10/25/best-5-medical-colleges-in-bangladesh/
Dhaka Medical College
Legacy Carved Over Decades
From its inception, DMC has been more than just walls and classrooms. It stands as a testament to the undying spirit of innovation, resilience, and dedication. When the college was founded in the aftermath of World War II, Bangladesh was still reeling from the impact of war and partition. Yet, amidst this backdrop of uncertainty and change, DMC emerged as an institution committed to the noble cause of alleviating suffering and advancing medical science.
The college's early years were marked by challenges, but they were also years of tremendous growth and evolution. DMC quickly established itself as the epicenter of medical learning in the region. Its curriculum, blending theoretical knowledge with hands-on clinical experience, set a benchmark for medical education in South Asia.
A Leadership Role in National Events
DMC's influence is not limited to medical education alone. Over the decades, the institution has played a crucial role during pivotal moments in Bangladesh's history. During the nation's fight for independence in 1971, DMC was more than just a medical college. It became a sanctuary for the wounded, a hub for medical aid, and a witness to the indomitable spirit of a nation striving for freedom.
Furthermore, DMC's leadership role has been evident in national health campaigns, epidemic control, and disaster management. Its experts have consistently been at the helm, offering guidance, conducting research, and providing care where it's most needed.
Mentoring Leaders of Tomorrow
Beyond its rich history, what truly sets DMC apart is its commitment to shaping future leaders. The institution recognizes that the healthcare challenges of tomorrow require not just skilled hands but also visionary minds. To this end, DMC's faculty comprises some of the brightest minds in medicine, dedicated to mentoring the next generation.
With an expansive campus that houses some of the best facilities in the region, DMC is a hub of academic activity. Its library boasts a vast collection of medical literature, ensuring that students and faculty have access to global advancements in healthcare. The practical training at DMC is unparalleled – the Dhaka Medical College Hospital, one of the largest in the country, provides students with diverse and intense clinical exposure.
DMC's faculty is its greatest strength. With a mix of experienced doctors and young innovators, the college ensures that students get a balanced perspective on medicine – understanding its rich history and being prepared for its dynamic future. Research is heavily emphasized, with numerous papers, innovations, and breakthroughs credited to the institution.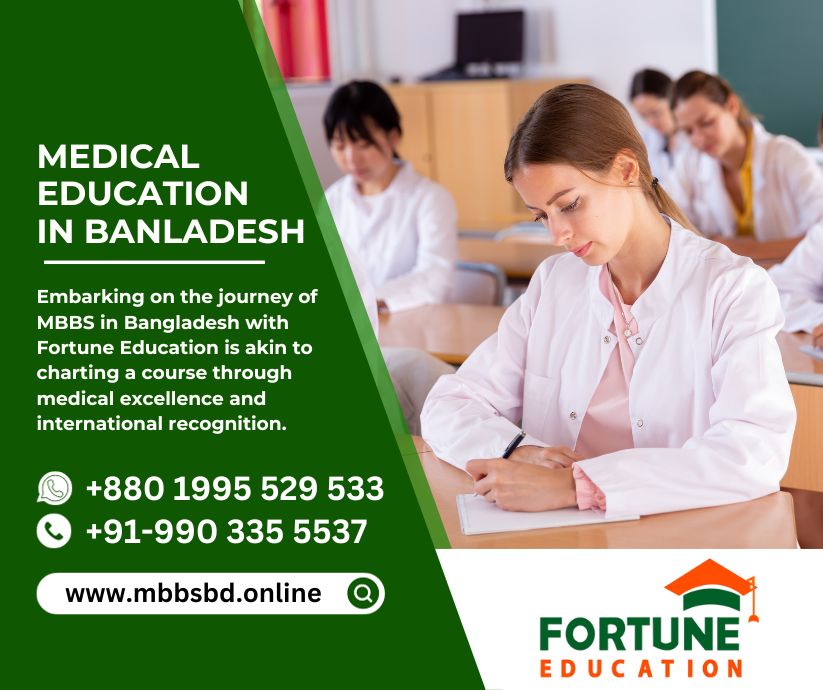 Sir Salimullah Medical College
A Blend of Heritage and Medical Prowess
Nestled in the historical heart of Dhaka, Sir Salimullah Medical College (SSMC) is more than just an educational institution; it's a legacy deeply interwoven with the city's rich tapestry. Named after the Nawab Sir Salimullah, a significant figure in the annals of Bangladeshi history, the college has carried forward his vision of excellence and service to the community since its inception.
The sprawling campus reflects a synthesis of the old-world charm with contemporary amenities. Each lecture hall, lab, and medical facility is a testament to the college's commitment to offering its students a world-class education. At the heart of this learning experience is the iconic Mitford Hospital, where students dive into the practical aspects of medicine, handling a diverse array of cases and gaining invaluable hands-on experience.
But SSMC isn't just about textbooks and clinical rotations. The college emphasizes holistic development. With numerous cultural, academic, and sports events dotting its annual calendar, students find ample opportunities to nurture their passions outside of medicine. This balance of curricular and extracurricular ensures that SSMC graduates are not only proficient doctors but also well-rounded individuals.
With its rich heritage, an unmatched curriculum, and an unwavering commitment to excellence, Sir Salimullah Medical College continues to be a top choice for aspiring doctors.
Shaheed Suhrawardy Medical College
A Commitment to Community and Excellence
Established in 1963 and named after Huseyn Shaheed Suhrawardy, a stalwart in Bangladesh's journey to independence, Shaheed Suhrawardy Medical College (ShSMC) stands as a symbol of sacrifice, service, and academic prowess. Located in Dhaka, the college has, over the decades, carved a niche for itself in the medical education landscape of the country.
The institution prides itself on its state-of-the-art facilities, from well-equipped labs to interactive classrooms. Central to the ShSMC experience is the Shaheed Suhrawardy Hospital, where students are introduced to the practical aspects of their profession. The diversity of cases handled by this hospital ensures that every student is well-prepared for any medical challenge they might face in the future.
A defining feature of ShSMC's approach to medical education is its emphasis on community service. Students are encouraged to participate in outreach programs, medical camps, and awareness drives, reinforcing the college's belief that a doctor's duty extends beyond the confines of a hospital.
Supported by a faculty of eminent doctors and educators, Shaheed Suhrawardy Medical College remains at the forefront of medical education and community service.
Mymensingh Medical College
A Beacon of Knowledge in Northern Bangladesh
Tracing its roots back to 1924, Mymensingh Medical College (MMC) stands as one of the oldest and most prestigious medical institutions in Bangladesh. Located in the serene city of Mymensingh, away from the hustle and bustle of urban centers, MMC offers its students a tranquil environment, conducive to rigorous academic pursuits.
The campus, with its lush green spaces and colonial-era architecture, exudes an aura of nostalgia, while its modern amenities ensure students have access to the latest in medical education. Key to the MMC experience is its affiliated hospital, where students gain clinical exposure, honing their skills under the guidance of experienced professionals.
MMC has always been at the forefront of medical research in the country. With its dedicated research wing and collaborations with international institutions, the college offers budding researchers a platform to innovate and contribute to global medical knowledge.
Underpinning MMC's academic and research endeavors is its exemplary faculty, a blend of seasoned professionals and dynamic young educators. Their guidance ensures that Mymensingh Medical College continues its legacy of academic excellence.
Top 10 Medical College in Bangladesh
Fortune Education, Bangladesh
Fortune Education is a recognized name in Bangladesh when it comes to facilitating the admissions process for aspiring medical students. Over the years, the organization has carved out a niche for itself by assisting students in securing seats in medical colleges both within Bangladesh and abroad.
A Closer Look at Fortune Education
Diverse Services: Fortune Education is not just limited to medical admissions. They provide guidance on studying in several countries and courses, ensuring that students have a wide array of choices. However, medical admissions, especially for MBBS, is one of their significant services.
Experienced Counselors: One of the main assets of Fortune Education is their team of seasoned counselors who bring with them years of experience. They guide students through the labyrinth of the admissions process, ensuring that all requirements are met and deadlines are adhered to.
Affiliations: Over the years, Fortune Education has built strong relationships with a number of educational institutions in Bangladesh and other countries. These affiliations facilitate a smoother admission process for students.
Transparency: One of the hallmarks of Fortune Education's service is its commitment to transparency. They provide a clear breakdown of costs, requirements, and the overall process, ensuring that students and their families can make informed decisions.
Test Preparation: For courses and colleges that require entrance tests, Fortune Education also offers test preparation guidance. Their experienced tutors help students ace these exams, ensuring a better chance of securing admissions to their desired colleges.
Post-Admission Support: Their services don't just stop at securing admissions. Fortune Education also assists students with visa processes, accommodation, and even post-study guidance.
Why Fortune Education Stands Out
Holistic Approach: Instead of just focusing on admissions, they take a more holistic approach, ensuring students are well-prepared for their journey ahead, both academically and logistically.
Trustworthy: Over the years, Fortune Education has built a reputation for being trustworthy. Their transparent processes, experienced counselors, and success stories add to their credibility.
Student-Centric: At the heart of their operations is the well-being and success of the students. Every counselor at Fortune Education works diligently to ensure that students get the best possible guidance tailored to their needs.
In conclusion, Fortune Education, Bangladesh, has been a beacon of hope for many students aspiring to further their education, especially in the medical field. Through their comprehensive services, they have played a pivotal role in shaping the futures of many students, guiding them through one of the most crucial phases of their lives.
Rajshahi Medical College
Pioneering Medical Education in the West
Located in the vibrant city of Rajshahi, Rajshahi Medical College (RMC) stands tall as one of the premier medical education institutions in Bangladesh. Established in 1958, it has since become a symbol of academic brilliance and medical excellence in the western part of the country.
Key Highlights of RMC:
Academic Excellence: RMC's curriculum is rigorous and is regularly updated to match global standards. The college is well-equipped with state-of-the-art laboratories, classrooms, and a rich library, ensuring that students get a comprehensive learning experience.
Clinical Exposure: Affiliated with Rajshahi Medical College Hospital, students get hands-on experience dealing with a diverse range of cases, preparing them for future medical challenges.
Research and Development: RMC places strong emphasis on research, with students and faculty regularly publishing in national and international journals. This focus on innovation ensures that the college remains at the forefront of medical advancements.
Diverse Community: With students coming from various parts of Bangladesh and abroad, RMC boasts a diverse community that enriches the learning experience.
Alumni Network: Many of RMC's alumni have gone on to achieve significant accolades in the field of medicine, both in Bangladesh and globally.
MAG Osmani Medical College
A Legacy of Medical Brilliance in the East
Named after the Bangladeshi military leader General M.A.G. Osmani, MAG Osmani Medical College in Sylhet is more than just a medical college; it's a legacy. Since its inception in 1962, it has been the cornerstone of medical education in the northeastern region of Bangladesh.
Features that Define MAG Osmani Medical College:
Cutting-Edge Facilities: The college prides itself on its state-of-the-art infrastructure, providing students with modern laboratories, lecture halls, and a plethora of resources.
Osmani Hospital: The affiliated Osmani Hospital is one of the largest in the region, ensuring that students receive ample clinical exposure during their education.
Holistic Development: Beyond academic pursuits, the college emphasizes overall development, encouraging students to participate in sports, cultural events, and community outreach programs.
Faculty and Research: Backed by a strong faculty comprising experienced medical professionals and educators, the college also emphasizes research, making significant contributions to the medical field.
Sher-e-Bangla Medical College
Crafting Medical Leaders in Southern Bangladesh
Situated in the city of Barisal, Sher-e-Bangla Medical College (SBMC) has, since 1968, been a beacon of medical education in southern Bangladesh. It stands as a tribute to A.K. Fazlul Huq, fondly remembered as Sher-e-Bangla (Lion of Bengal), and his vision for a progressive Bangladesh.
Distinctive Features of SBMC:
Campus and Infrastructure: SBMC's campus is a harmonious blend of natural beauty and architectural excellence. With state-of-the-art facilities, it offers students an environment that is both conducive to learning and relaxing.
Clinical Training: Sher-e-Bangla Medical College Hospital, the affiliated training hospital, is a hub of medical activity, ensuring students get in-depth practical exposure.
Diverse Curriculum: The curriculum at SBMC is comprehensive, covering all aspects of medical sciences, ensuring students are well-prepared for their future roles.
Community Involvement: SBMC has always emphasized the importance of doctors being involved in the community. As a result, students are encouraged to participate in health drives, awareness programs, and community outreach.
Legacy of Excellence: Over the decades, SBMC has produced some of the finest medical professionals who have made significant contributions both within Bangladesh and internationally.
These colleges represent the epitome of medical education in Bangladesh, each bringing its unique flavor to the landscape of healthcare and education in the country.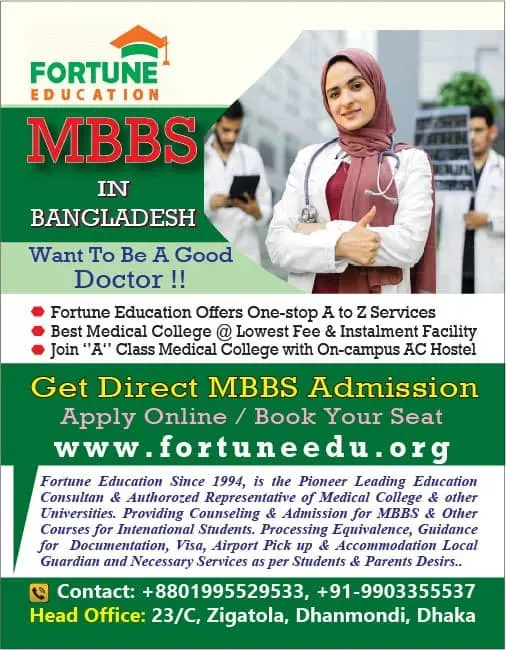 Medical Studies in Bangladesh