MBBS Application Form for Indian Students. Processing for foreign students I With Seat Confirmation and low fee. Mobile & WhatsApp: +8801995529533
Fortune Education offers MBBS Admission with seat confirmation on private medical colleges under various medical universities in Bangladesh for the academic year 2023-24. Fortune Education, Dhaka, Bangladesh, established in 2004, is the Pioneer & World Leading Education Consultant.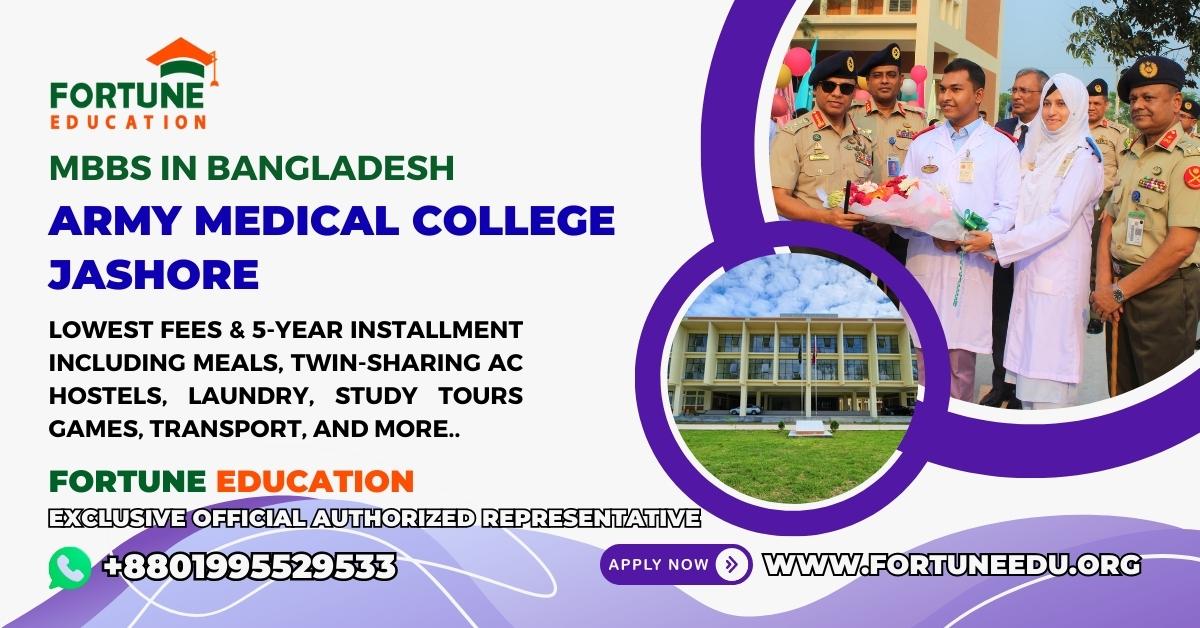 In India, the cost of getting an MBBS degree from any private medical college with decent infrastructure is no less than ₹50,00,000, many times it crosses even a crore depending on which college or which part of the country you select. This is just donation fee we are talking about; regular tuition fee would be charged on top of that before every semester or every year.
MBBS Admission in Bangladesh
Why MBBS in Bangladesh is the right choice for Indian students includes the following reasons:
Major concern of many international students planning to pursue MBBS in Bangladesh is the language of the course in the selected foreign country. But you don't have to worry as in Bangladesh; you'll feel right at home. The medium of instruction in most universities is English which a huge sigh of relief for Indian students.
Cost
Pursuing an MBBS in Bangladesh is cheaper than most of the study abroad destinations due to low medical fee and reduced expenses.
Currency
One of the major perks of studying MBBS in Bangladesh is the fact that the value of the currency is depreciated which will allow you to maintain your budget while roaming around the country seeing in its culture, food and beautiful location.
Food
The food in Bangladesh has a similar palate when compared to Indian cuisine. Also, you can find an Indian restaurant very easily in the country when you study MBBS in Bangladesh.
Traveling Cost
Being a neighboring country, the cost of traveling to Bangladesh is very low. It will cost you anything between 5000 to 10,000 to buy a plane ticket to Dhaka. Alternatively, you can also travel by train which plies between Kolkata and Dhaka.
Globally Recognized MBBS
Medical study in East Pakistan is the best choice for South-East Asian counterparts for its recognition. It has good recognition of it throughout the world. So for the recognition and reputation of MBBS, it has, it would be best if one does MBBS in Bangladesh.
Eligibility Criteria
Ones should not pass 10th class before 2015
The minimum required CGPA is 8.0 in SSC
The minimum CGPA is 3.5 in 12th
One must have a minimum of 3.5 GP in Biology
Courses and Curriculum
In Bangladesh, the courses are divided into 4 phases:
Phase

Duration

Subjects

First Phase

1.5 years

Anatomy, Biochemistry,
etc.

Second Phase

1 year

Community Medicine and Forensic
Medicine.

Third Phase

1 year

Pharmacology Therapeutics,
Pathology, Microbiology,
etc.

Fourth Phase

1.5 year

Medicine, Surgery, Obstetrics and
allied courses.
In total these time divisions constitute to five years of time and the schedule of the MBBS is planned accordingly.
Benefits of Pursuing MBBS in Bangladesh
There is NO donation required to get admission to a Bangladeshi medical college.

The quality of infrastructure, education, and accommodation are comparably better to other developed countries.

There is no entrance test required for admission and the application process is quite simple to pursue MBBS in Bangladesh.

The hospitals are well equipped with great infrastructure and technology.

According to an agreement the students from SAARC nations need not pay the extra tuition fee in medical colleges.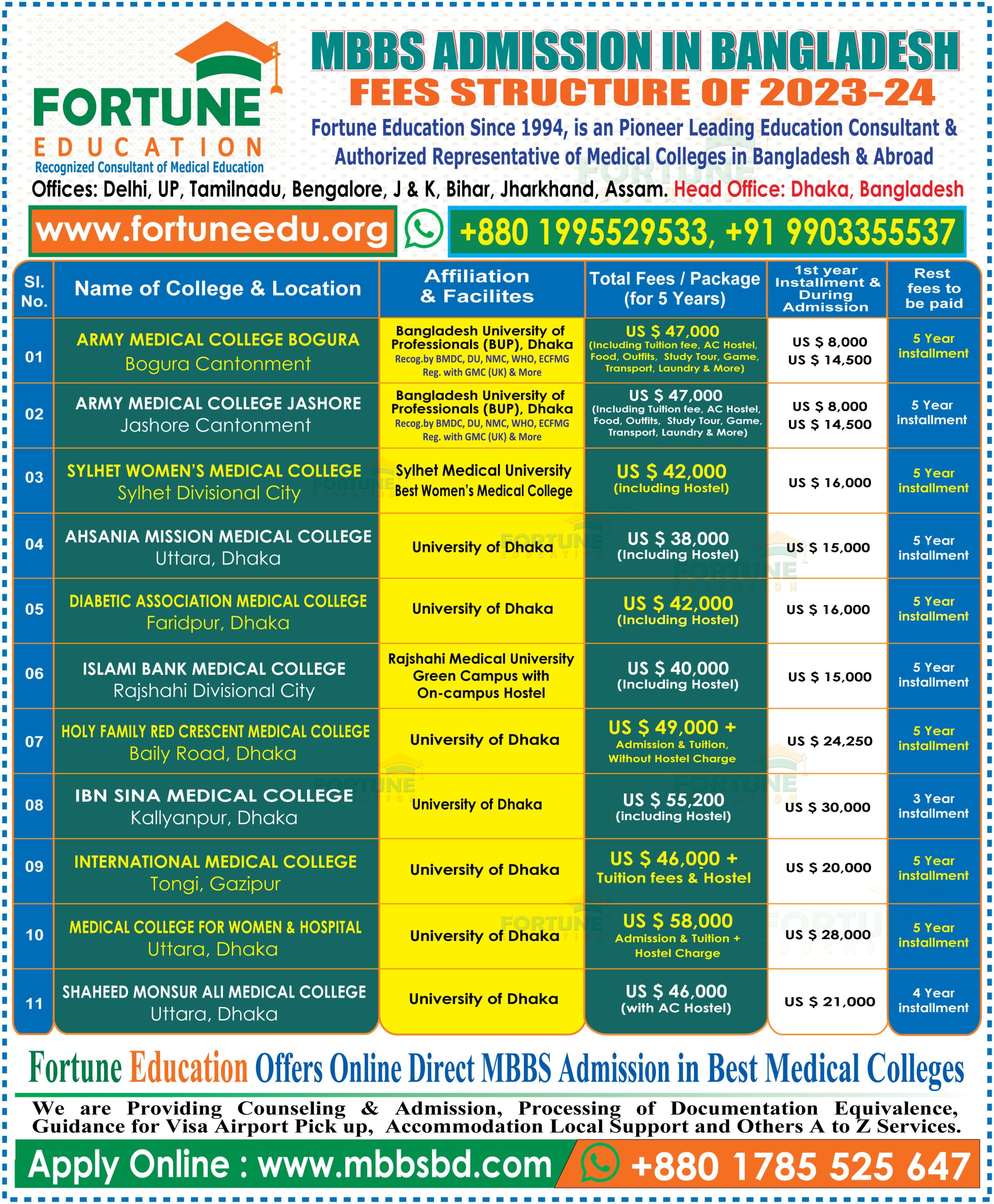 The fee of pursuing an MBBS h in any of the medical universities of Bangladesh is highly affordable, which is around 40 lakhs (including food and accommodation). However, the cost may vary depending on the university you choose and the kind of lifestyle you opt for.
Top Medical Colleges in Bangladesh
Here are some of the top medical colleges to pursue MBBS in Bangladesh:
KHULNA CITY MEDICAL COLLEGE
Khulna City Medical College one of the top private medical colleges of Bangladesh successfully accomplished the honor at national and international daises. Khulna City Medical College is highly prominent for its professionalism and dedication to inspiring young medical professionals through training and learning the best medical skills. Khulna City Medical College is recognized by both local and international accreditation bodies for its outstanding medical education like BMDC, NMC (India), WHO, ECFMG, FAIMER, NMC (Nepal) and so others. Khulna City Medical College can be considered as one of the best medical colleges one can choose for their medical education.
ABOUT KHULNA CITY MEDICAL COLLEGE
Khulna City Medical College is associated with the top Doctors, Surgeons, expert professors of various sciences, associate and assistant professors in great numbers to inculcate great medical skills and practice-based knowledge to the students. Faculty that are appointed at Khulna City Medical College are of top experts of the home and from various abroad countries to train the future doctors with contemporary medical skills. Infrastructure And Other Facilities Khulna City Medical College campus is of unique facility established near to the city, considering all possibilities and facilities.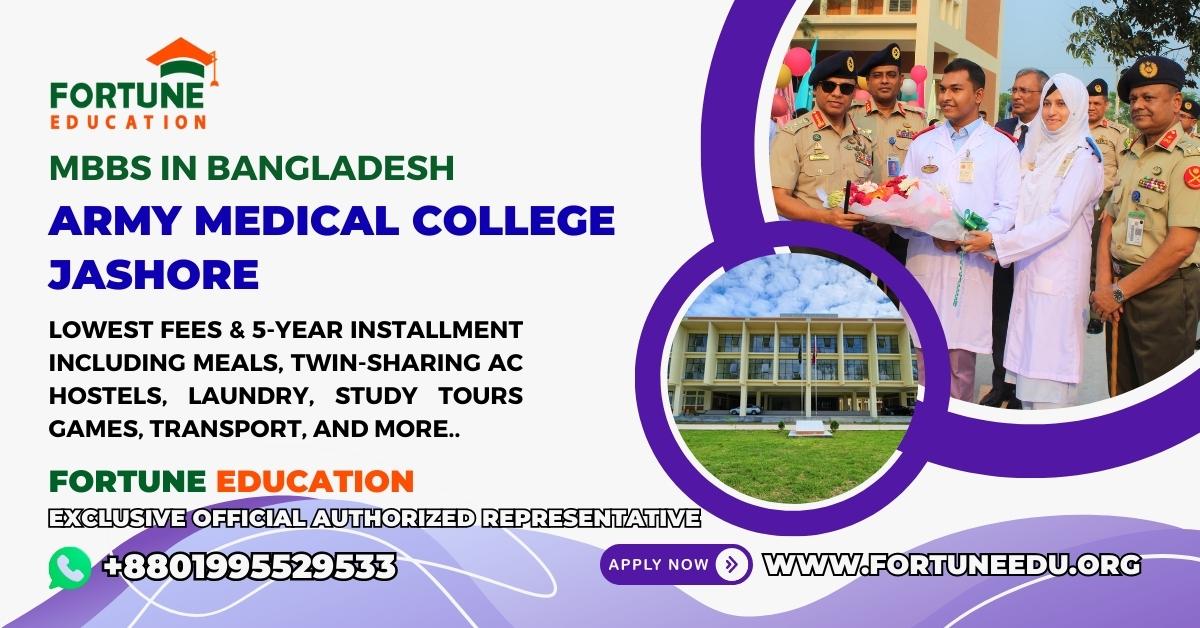 The huge campuses are located right to the next of Salam Castle hotel with vide open area to experience nature accompanied with education. College equipped with two centrally air-conditioned huge lecture halls befitting 110 students each with modern multimedia, computer, and audiovisual systems. 4 tutorial rooms, a spacious campus library stocked with thousands of latest and ancient medical books, journals, and other manuscripts of international standards, including the e-library to all the student's usage.
International Students
Nearly 250 international students are currently studying at Khulna City Medical College enrolled from various countries of the near propinquity. Most of the students are from India and Nepal and from a few other countries. International students are cared for with great compassion and proper direction to lead their medical education years with great comfort.
Indian Students
Near to 50 students are of Indian origin are at present pursuing MBBS courses at Khulna City Medical College with full satisfaction of their entire course curriculum and other facilities provided there. Students choose Khulna City Medical College for their medical education considering the factors like the advanced medical aids, best faculty members, modern infrastructure, latest equipment to aid the medical education with low and very affordable fee structure.
Indian Food And Accommodation
College provides its own accommodations for all its non-local students exclusive for boys and girls. The dormitories are fully equipped with all the facilities that are needed for the students including the Air conditioners at very reasonable fees. Indian food is also available to the students at the canteens of the College and the hostel as per the tastes and preferences of the Indian community students at very low prices.
WHY KHULNA CITY MEDICAL COLLEGE
Top medical college of Bangladesh promoting competent medical practitioners to the healthcare system. Associated Hospital with 650 beds capacity to provide a first-hand learning experience to the medical students. Recognized by BMDC, NMC, WHO, ECFMG, FAIMER and so other institutions. Globally recognized medical degree including valid in India to practice medicine.
NO DONATION / CAPITATION FEE. NO NEED FOR ANY ENTRANCE EXAMINATIONS.
Best infrastructure and other facilities including the modernized lecture halls. Digital library equipped with national and international reference books and journals. ENGLISH as the medium of teaching. SCHOLARSHIP facilities to the Indian most deserving medical students. A low and very affordable fee structure that can be paid in monthly installments. Separate Hostels for Boys and Girls at very close proximity to the college with safety precautions.
FEE STRUCTURE AT KHULNA CITY MEDICAL COLLEGE
About Khulna City: Khulna is the 3rd largest city of Bangladesh enriched for its great historic culture since the 12th century from its inception. City at present is the administration center to Bangladesh with 663,342 population hosting many national and international companies. It is the principal command center of the Navy of Bangladesh, serving national security. The city is the gateway to the Sundarbans the world's largest mangrove forest a considerable home to the Bengal tiger's population and also the UNESCO World Heritage city for its protective monuments.
Culture and heritage: The city's heritage and culture date back to the ancient kingdoms of Vanga and Samatata and Sena dynasty and others. Later the British government ruled undivided Bangladesh for several years and Khulna was also a part of all the wars including the Bangladesh liberation war. Khan Hahan Ali Bridge, Khulna Skyline, Gollamari Martyrs Memorial, Mosque city of Bagerhat, and few other most visited tourists' attractions fascinate the local and foreign visitors every year.
Transportation: Rickshaws are till the days most popular public transport at Khulna, traveling in the city and buses and another public transport system prevails as usual to the world transport systems. N7 highway connects all over Bangladesh to Khulna city through various bus routes transporting regularly the passengers inside the country. Khulna railway station is one of the prominent railway stations of Bangladesh operating 6 intercity trains, two commuter express trains, and other mail trains connecting to all cities of Bangladesh and to the nearby countries. Khan Jahan Ali Airport is still under construction to serve the international tourists now Jessore Airport which is only 71 km north of the city is the main source for now.
Climate: Bangladesh is of tropical savanna climatic country mostly experiencing distinct monsoonal seasons. Annual rainfall occurs during May and October months and an average temperature of 19 degrees during the months of January is the winter climatic condition. Pollution is very moderate at Khulna making all its citizens breathe fresh air and clean water sources with the close mangrove forests and still, non-polluted environment greatly satisfies the locals and migrants. Students that is willing to study at the city of Khulna deeming to be their best choice comparing with other most polluted cities of Bangladesh where they need to study for nearly 6 years duration at the city of Khulna. Though the living and other expenses are not that high compared with the cities of India and other top world countries living in Khulna city is also inaudibly considered as moderate. The similar climatic conditions to India are the most fascinating factor to all the medical aspirants that are willing to join the MBBS course in Bangladesh
Safety: Alongside the pollution issue city of Khulna is also one of the cities to be very careful to live in as the crime rate of the city is a bit high. The government already issued travel advisories to all its tourists recommending a "degree of caution" in Khulna and in Bangladesh.
This is the most critical factor to consider while looking studying MBBS in Bangladesh though the country is in very close proximity to India, Indian students especially female students might think twice to get enrollments. Other than these two issues of safety and pollution where the same is common to most of the world's capitals the educational standards and other conditions are worthwhile to consider Khulna City Medical College as the right choice to complete MBBS.
Communication: The official language of communication in Bangladesh is Bengali with 98% of Bangladeshis being fluent in the communication of Bengali. Though Bengali is the first and official language in spite of being a monolingual country Bangladeshis also use few other languages including English, Tibeto-Burman, and Indo-European languages.
Khulna City Medical College's teaching and communication language are mostly English make it very comfortable for all its foreign students. Khulna City Medical College is an apt college for those Indian students that are seeking education in countries with similar cultural practices and food preferences along with learning global standards of education.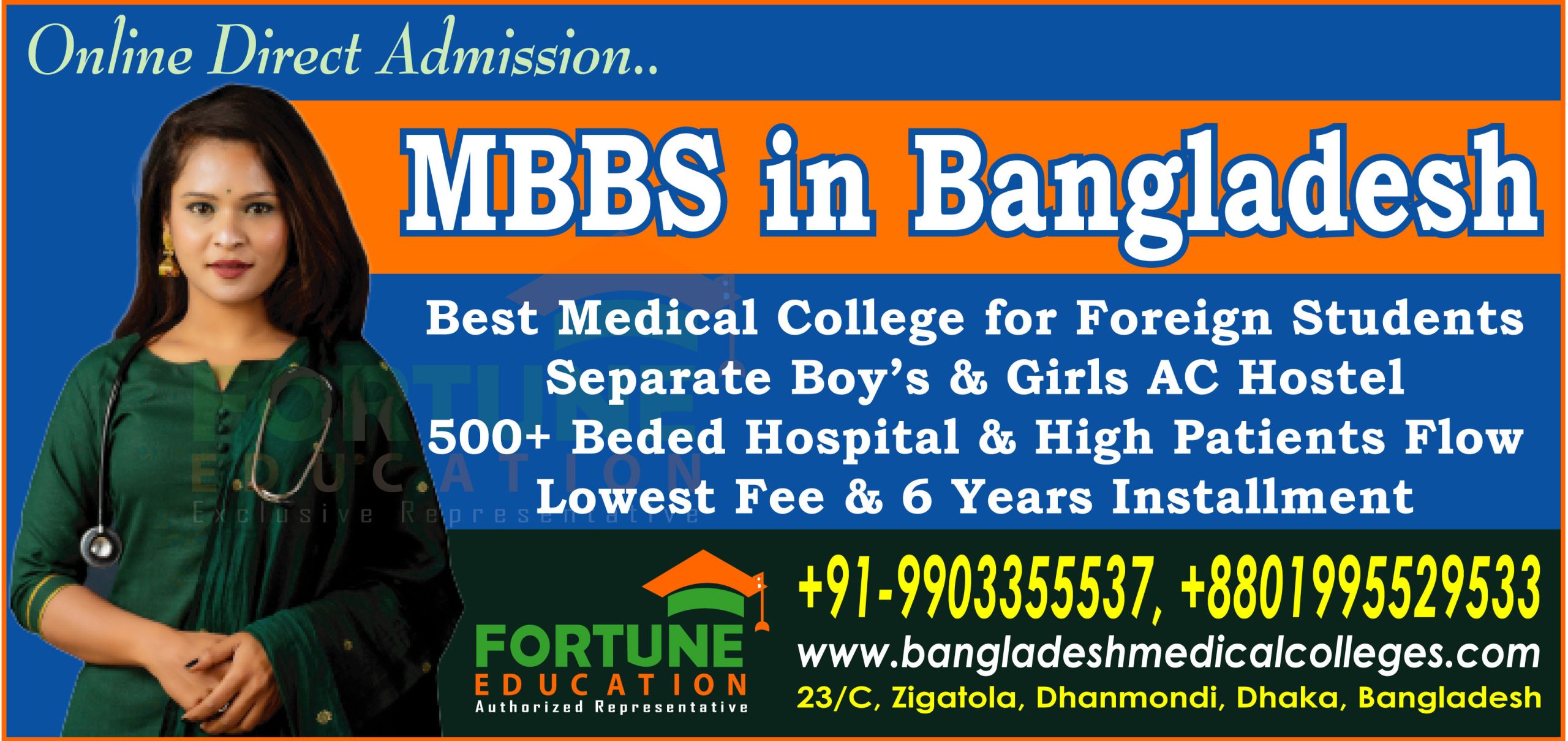 Bangladesh University of Professionals
Location: Mirpur, Cantonment, Bangladesh
This is the youngest university in Bangladesh and is administered by armed forces of Bangladesh. The main aim is to provide quality education for incoming students from different countries.
Gono Bishwabiddalay
Location: Ashulia, Savar, Dhaka, 1344, Bangladesh
Another option to consider for MBBS in Bangladesh is Gono Bishwabiddalay. This university is recognized in Savar and is well known among foreign medical students.
Shahjalal University of Science and Technology (SUST)
Location: University Ave, Sylhet, Bangladesh
One of the most distinguishing features for Shahjalal University of Science & Technology is that it offers PhD to the students. The university has been bestowed with varied titles like specialized institute for Science & Technology by virtue of the versatile colleges accessible at the university.
University of Dhaka
Location: Dhaka, Bangladesh
During the British people's dominion, this college was taken into account in the concert of the oldest universities within the country. It is a popular choice for pursuing MBBS in Bangladesh because of its high position in the ranking of schools across Bangladesh in 2017. This university has also been included in the Top 100 Universities of Asia.
University of Rajshahi
Location: Rajshahi,Bangladesh
The ranking of this university was given by the Bangladesh University States. The University of Rajshahi stood third in the country. After that, the University of Rajshahi became the youngest and largest university in Bangladesh.
Southern Medical College
Location: East Nasirabad, Khulshi, Chittagong
Another must-consider choice for MBBS in Bangladesh, this university helps in building their students as skilled and observant medical graduates to become successful doctors in society. Many students had their graduation from this college, and pursue their practice and professions in India.
University of Science & Technology Chittagong (USTC)
Location: Zakir Hossain Road, Foy's Lake, Khulshi, Chittagong
USTC is a non-public university that was started as the Institute of Applied Health Sciences (IAHS).Out of the whole strength around 1200 students area unit from different countries like Bharat, Nepal, Malaysia, Sri Lanka, Bhutan, Jordan, Palestine, etc.
Khwaja Yunus Ali Medical College
Location: Enayetpur, Bangladesh
This university is affiliated with Rajshahi University for an MBBS degree. It has another affiliation with Bangabandhu Sheikh Mujib for PG degrees. This university consists of non-profitable and is highly equipped with modern technology, which is why it is one of the most promising universities.
Dhaka National Medical College
Location: Dhaka
This medical college was acquired from its forerunner, which is the Dhaka National Medical Institute. It consists of almost a total of 1500+ graduate doctors. These doctors have passed out of college and they are working within India and also abroad. It is now considered amongst the top colleges to pursue MBBS in Bangladesh.
Is MBBS in Bangladesh expensive?
No, studying MBBS in Bangladesh is much cheaper than in any other Government or Private College in India. Living and transportation expenses are also very affordable. It is actually a very good option for pursuing quality education at a very low cost.
Is MBBS in Bangladesh approved by MCI?
Yes, MBBS in Bangladesh is recognized by the Medical Council of India (MCI). All government medical universities in Bangladesh are globally recognized by the MCI and the World Health Organisation (WHO).
Can one practice medicine in India after pursuing MBBS in Bangladesh?
The medical degrees provided by medical universities in Bangladesh are globally recognized and are accepted by every organization in the industry. Candidates can practice medicine in India after pursuing MBBS in Bangladesh.
Does studying MBBS in Bangladesh allow one to do internships in India?
Candidates pursuing MBBS in Bangladesh are allowed to pursue internships in India. However, some colleges do not allow students to pursue an Internship anywhere else outside Bangladesh.
Is it necessary to learn Bengali to study MBBS in Bangladesh?
Though Bengali is the most-spoken language in Bangladesh, the medium of instruction for MBBS in Bangladesh is English. Thus, there is no need to learn other than on some basic levels for communication in Bengali.
What are the greatest advantages of pursuing an MBBS in Bangladesh?
Upon completion of MBBS in Bangladesh, you can go to PG level without writing MCI test. Perfect medical science training is only completed when the student is exposed to a variety of disease types, and this type of excellent and identical exposure to medical diagnosis is given in the medical colleges of Bangladesh.
(Online /Direct Admission & Seat Confirmation)
Fortune Education Pioneer & Leading Authorized Representative of Medical Colleges in Bangladesh & Abroad offers online direct MBBS and other courses admission with required consultancy services of higher study
Fortune Education is a reputable and leading organization that serves as an authorized representative for medical colleges in Bangladesh and abroad. With their extensive experience and expertise, they offer online direct admission services for MBBS and other courses, along with comprehensive consultancy services for higher education.
1. Online Direct Admission: Fortune Education provides a convenient online platform through which aspiring students can apply for admission to medical colleges and other courses directly. This streamlined process eliminates the need for physical presence and enables students to apply from the comfort of their homes.
2. Authorized Representation: As an authorized representative, Fortune Education has established collaborations and partnerships with reputed medical colleges in Bangladesh and overseas. This ensures that students receive genuine and reliable information about the colleges they are interested in and can access direct admission opportunities.
3. Consultancy Services: Fortune Education offers a range of consultancy services to guide students through the higher education process. These services include:
• Course Selection: Expert consultants provide guidance to students in choosing the right course based on their interests, academic background, and career goals.
• College Selection: With their in-depth knowledge and understanding of various medical colleges, Fortune Education assists students in selecting reputable institutions that provide quality education and align with their preferences.
• Admission Assistance: The organization supports students throughout the admission process, assisting with document preparation, application submission, and follow-up with colleges to ensure a smooth admission experience.
• Visa Support: Fortune Education provides valuable assistance and guidance in the visa application process, helping students compile the necessary documents and navigate the requirements to obtain their student visa.
• Financial Guidance: The organization offers advice and information on financial matters, including tuition fees, scholarships, and available funding options to help students make informed decisions.
• Pre-Departure Assistance: Fortune Education assists students with pre-departure preparations, including travel arrangements, accommodation, and familiarizing them with the new educational environment they will be entering.
• Post-Admission Support: Even after admission, Fortune Education continues to provide support and guidance to students, addressing any concerns or challenges they may encounter during their academic journey.
4. Study Abroad Opportunities: In addition to facilitating admissions in Bangladesh, Fortune Education also helps students explore study abroad opportunities. They provide guidance on admission procedures, college selection, visa support, and other essential services for pursuing higher education in renowned institutions overseas.
Fortune Education takes pride in its professionalism, integrity, and commitment to providing transparent and reliable services to students. By leveraging their expertise and industry connections, they strive to ensure that students have a smooth and successful transition into their desired medical colleges or other courses, both in Bangladesh and abroad.
Fortune Education
Head Office: 23/C, Zigatola, Dhaka-1209, Bangladesh
Bangladesh: +8801995529533
India: +919903355537
Email: fortunebangladesh@gmail.com
Website: www.fortuneedu.org , www.mbbsbd.com