Eastern Medical College

Eastern Medical College in Comilla. This college has carved a niche for itself by offering top-notch medical education, comprehensive training, and state-of-the-art facilities. If you're considering pursuing a medical degree in Bangladesh, here's why Eastern Medical College should be on your radar.
History and Prestige Situated in the vibrant city of Comilla, Eastern Medical College has a rich history of producing some of the country's leading medical professionals. Its foundation is built on years of tradition and commitment to excellence, making it a standout choice for aspiring doctors.
Cutting-edge Facilities A significant factor that sets Eastern Medical College apart is its modern facilities. From advanced laboratories to fully-equipped medical libraries, students are given every tool they need to succeed. These facilities ensure that they're not just memorizing textbooks, but also getting hands-on practical experience.
Dedicated Faculty The heart and soul of any institution are its educators. At Eastern Medical College, the faculty comprises experienced professionals who are passionate about shaping the next generation of medical leaders. Their guidance ensures that students are well-prepared to face real-world challenges.
Holistic Education Approach Beyond just medical knowledge, Eastern Medical College focuses on producing well-rounded professionals. They emphasize ethical practices, patient interaction, and communication skills. This holistic approach ensures that graduates are not just doctors, but compassionate caregivers.
Research and Development In the fast-evolving world of medicine, research is crucial. Eastern Medical College recognizes this and actively encourages students to partake in research projects. With numerous publications under its belt, the institution is a significant contributor to medical science in the region.
Location and Connectivity Comilla is not just about education; it's about the experience. Located strategically, Eastern Medical College offers both the serenity required for intensive study and the connectivity to major urban hubs, making it an ideal place for growth and development.
FACILITIES AVAILABLE IN THE COLLEGE
Attached Hospital EMCH 300 bedded at Kabila Campus, 250 beded at Race Course Campus

Experienced & Caring Faculty with nationally reputed teaching staff.

Separate hostels with attached bath for boys & girls with adequate security.

Excellent learning facilities – Modern class rooms, Labs, Library, Lecture Halls with audio-visual facilities.

The whole library is under free WIFI Internet Network. It is registered with Health Inter Network Access to Research initiative through WHO due to which teachers & students of EMC have free access to more than 6600 latest Medical Journals of the world.
Every EMC student has a specific ID & Password through which their guardian can log into EMC website (Student's Profile) to know the academic details, performance & other information about their child.

Separate Common rooms for male & female students with television, indoor games and entertainment.

Facilities for outdoor games and tournaments.

A good canteen for students as well as for teachers.

Modern transport fleet for easy commuting of students.

Round the clock standby Generator.
ELIGIBILITY FOR ADMISSION
Foreign students should have minimum GPA 7.00  together in S.S.C/O level & HSC/A level (Separately minimum GPA 3.00 in each). Students with "O" & "A" level must provide attested photocopy of the Equivalence Certificate issued from the Office of the Director General of Health Services, Mohakhali, Dhaka, Bangladesh as a necessary  document of their eligibility.
HOW & WHEN TO APPLY
Foreign students should apply in the month of September – December. Those interested to apply for admission should at first get their S.S.C/O level, H.S.C/A level or equivalent certificates & mark sheets attested by the Ministry of Education as well as Ministry of Foreign Affairs of their own country. After that they should apply through the Embassy of Bangladesh in their country providing above mentioned attested documents. The Office of Director General of Health Services (DGHS), Dhaka, Bangladesh will then issue Equivalence Certificate which can be collected either through the Bangladesh Mission in their country or directly from the Office of DGHS.
DOCUMENTS TO BE SUBMITTED
For admission into 1st year MBBS course foreign students need to apply in prescribed form along with the following documents.

Attested photocopy of SSC & HSC / Equivalent Exam Certificate / Testimonial

Attested photocopy of SSC & HSC / Equivalent Exam Mark Sheets / Academic Transcript.

Attested photocopy of Equivalence Certificate issued by DGHS, Dhaka, Bangladesh (for students with "O" & "A" level).

3 (three) copies of recent passport size attested photographs.

Photocopy of Passport.

At the time of admission all original documents will be retained by the college until completion of the course.

1st year MBBS class usually starts from first week of January or as decided by the Government each year.
SCOPE FOR MCI, NMC
After obtaining MBBS degree from any Medical College in Bangladesh, students from INDIA are required to appear in FMGE test, conducted by Medical Council of India. MBBS degree obtained from Eastern Medical College is recognized by NMC.
Army Medical College Bogura
FINANCIAL INFORMATION FOR OVERSEAS STUDENTS (SESSION 2023-2024)
1. Five years Course Fee

$ 13,000.00

2. Development Fee

$ 4,000.00

3. Admission Fee

$ 7,000.00

4. Session fee ($1000 X 5 years)

$ 5,000.00

5. Tuition fee per month ($160 X 60 months)

$ 9,600.00

6. Lab fee

$ 1,700.00

7. Certificate Conversion fee

$ 200.00

Total
$ 40,500.00
Less Discount for Indian & Nepalese Students

$ 4,000.00

Total (Without Lodging & Registration Fees)
$ 36,500.00
Add. University Registration, BM&DC and Other fees
$ 1,500.00
Add. Hostel Admission and lodging fees (5 Years)
$ 2,500.00
Grand Total (USD) = $ 40,500.00
Mode of Payment: (Without food)

1. Booking Money (within September 2018)

$ 2,000.00 (Nonrefundable)

2. First Installment (within November 2018)

$ 15,000.00

3. within 30th June 2019

$ 5,000.00

4. within 31st December 2019

$ 3,500.00

5. within 30th June 2020

$ 3,000.00

6. within 31st December 2020

$ 3,000.00

7. within 30th June 2021

$ 3,000.00

8. within 31st December 2021

$ 3,000.00

9. within 30th June 2022

$ 3,000.00

Total Amount Payable: $ 40,500.00(With Lodging & Registration Fees)In Words: Forty Thousand Five Hundred US Dollars.
Bangladesh, in recent years, has become a focal point for medical education, attracting students not only from its own terrain but from neighboring countries as well. One of the reasons behind this trend is the high-quality MBBS programs offered by institutions like Eastern Medical College, Comilla.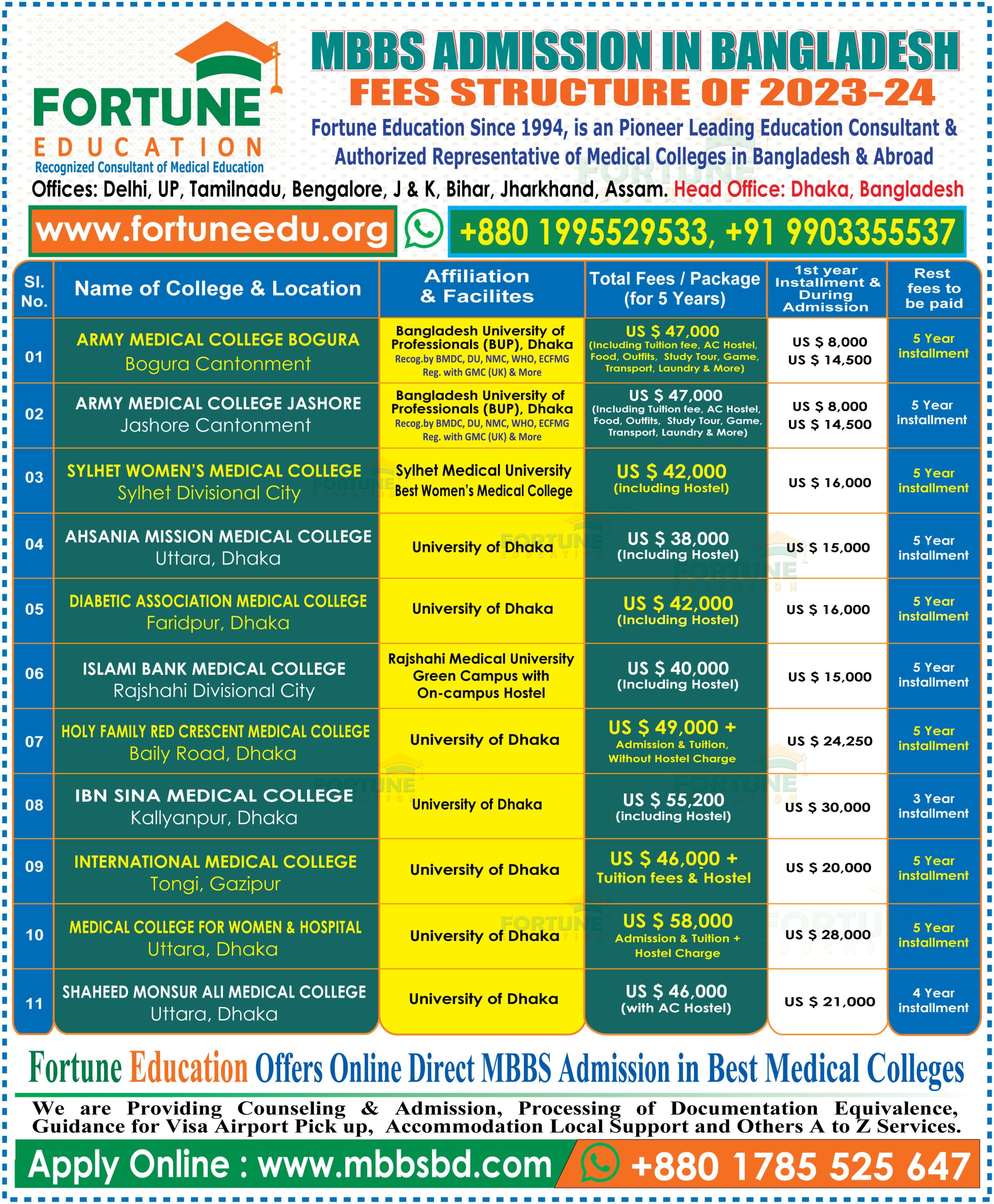 Curriculum and Quality: The MBBS curriculum in Bangladesh is robust and closely mirrors that of many international standards, ensuring that graduates are well-prepared for global practice.
Affordability: Compared to many Western countries and even some Asian counterparts, Bangladesh offers quality education at a fraction of the cost.
Cultural Familiarity: For students from South Asia, particularly India and Nepal, Bangladesh offers a cultural milieu that feels familiar, making the transition smoother.
Recognition: MBBS degrees from Bangladesh are recognized by major medical councils worldwide, including the WHO, ensuring that graduates can practice in various countries.
Eastern Medical College, Comilla – A Shining Beacon
Eastern Medical College stands tall as one of the premier institutions offering MBBS in Bangladesh. Here's what sets it apart:
Academic Excellence: With a team of dedicated educators, the college ensures that its students receive top-notch instruction, combining theoretical knowledge with practical experience.
Modern Infrastructure: Eastern Medical College is equipped with state-of-the-art facilities, from advanced laboratories to digital libraries, ensuring a conducive environment for learning.
Research Opportunities: Emphasizing the importance of research in medical practice, the college encourages students to undertake various projects, thus aiding their academic and professional growth.
Alumni Network: Graduates from Eastern Medical College have made their mark in various medical fields globally, and joining this institution means becoming a part of this prestigious network.
Location Advantage: Situated in Comilla, the college offers the perfect blend of a serene environment for studies and good connectivity to other parts of the country.
(Online /Direct Admission & Seat Confirmation)
Authorized Representative
HEAD OFFICE :
DHAKA, BANGLADESH.
MOBILE & WHATSAPP: +88-01995529533
OFFICES IN INDIA:
MOBILE & WHATSAPP: +91-9903355537