Fortune Education, Authorized Representative of 100+ Medical Colleges in Bangladesh & Abroad. For Admission/Seat Confirmation & other processing Contact: +8801995529533

Holy Family Red Crescent Medical College Admission Process
Holy Family Red Crescent Medical College, Affiliated with University Of Dhaka. Best and Reputed Medical College in Dhaka 14 KM from Dhaka International Airports. Modern Green Campus, In Campus Own Hostel & Library, Largest Hospital High Patient Flow.
About
The Holy Family Red Crescent Medical College started its journey in the academic year 1999-2000 by the inspiration of the daughter of the father of the Nation & defender of the democracy Janonetri Prime Minister Sheikh Hasina, the then Health Minister Sheikh Fazlul Karim Salim MP, Chairman, Bangladesh Red Crescent Society Sheikh Kabir Hossain and all the Doctors and Staffs working in Holy Family Red Crescent Medical College Hospital under the leadership of Professor Dr. Md. Maniruzzaman Bhuiyan contributed tremendously to establish the College.
The Holy Family Red Crescent Medical College is a project of the Bangladesh Red Crescent Society (BDRCS) and is run by a Governing Body duly formed by the representatives of sponsor organization Bangladesh Red Crescent Society (BDRCS), representatives from Dhaka University, and the Government of Bangladesh.
The College follows the course curriculum of the MBBS course as laid down by Dhaka University and Bangladesh Medical and Dental Council. The government of Bangladesh regulates the criteria of qualification of students and Dhaka University conducts the professional examinations and certificates of MBBS degree are awarded by them.
Holy Family Red Crescent Medical College
It started its journey with 50 students in the academic year 1999-2000. Presently we have about 800 students and 135 students are admitted during every academic session including up to a maximum of 50% foreign students.
Thirteen batches of students have already qualified as doctors and 12th batches have completed their internship training and the thirteen batches are undergoing internship training in Holy Family Red Crescent Medical College Hospital (HFRCMCH) which is a tertiary care hospital established in the year 1953 with 720 beds and delivering clinical services in all specialties of medical science.
The Holy Family Red Crescent Medical College and Hospital are located in a quiet and serene environment at the heart of Dhaka city at 1, Eskaton Garden Road, Dhaka-1000 on 8.10 acres of land. The construction of the new modern six-storied academic building covering an enormous area of one lac twenty-three thousand square feet with all modern amenities is already completed and academic activities have started in the meantime at all the levels.
Recognition
Since its establishment in the year 2000, Holy Family Red Crescent Medical College has come a long way during the last 17 years and achieved a great reputation amongst the non-government medical colleges in the country. We have adequate qualified teaching staff and modern teaching aids like computers, multimedia projectors, and digital sound systems for the effective delivery of lectures. This medical college has a full-fledged library with sufficient text, reference books, and journals.
The library has high-speed internet facilities with HINARI access. Holy Family Red Crescent Medical College is enlisted in the AVICENNA Directory (former WHO medical directory). This college is also enlisted with FAIMER International Medical Education Directory-IMED.
American Medical Council recently recognized MBBS Course completed from our Medical College. MRCP Part-I Orientation Course has been started in our Medical College in the meantime. Our College is also a center for FCPS Part-II Examination.
We have an international standard bi-annually published scientific publication, named Journal of Medical Science and Research which, is fully accredited by the Bangladesh Medical & Dental Council. Our vision is to lead this institution into a Centre of Excellence for medical education, training, and service.
HOLY FAMILY RED CRESCENT MEDICAL COLLEGE HOSPITAL
Holy Family Hospital (HFH) was established in 1953. It is located at 1, Eskaton Garden Road, Bara Maghbazar, Dhaka. It was renamed as Holy Family Red Cross Hospital in 1971. It was again renamed Holy Family Red Crescent Hospital in 1984.
Finally, in the year 2000, it was named Holy Family Red Crescent Medical College Hospital (HFRCMCH). It is a modern hospital with 646 beds. The hospital is run by Professors, Consultants, Jr. Doctors and auxiliary staff. There is a Nursing Training School attached to the hospital. The medical services include the department of Emergency having 24 hours service with observation facilities, Medicine, Surgery, Gynaecology & Obstetrics, Cardiology, Paediatric Surgery, Nephrology with modern dialysis facility, Neuromedicine, Endocrinology with the outdoor diabetic center, Gastroenterology with Endoscopy, Psychiatry, Paediatrics & Neonatology, Eye, E.N.T, Neurosurgery, Urology, Orthopaedic, Physiotherapy, Dentistry, Radiology & imaging including CT scan & MRI, Ultrasonography and Pathology, etc.
Holy Family Red Crescent Medical College Hospital has a well equipped Intensive Care Unit (ICU) with the latest equipment, skilled and well-trained staff. On the 2nd floor, 5 new Operation Theaters (OT) are now in running condition in addition to 2 OTs on the ground floor. The new OTs are equipped with the latest equipment including a modern image intensifier with C Arm and an advanced operating microscope. The outdoor is equipped with central AC for the comfort of the patients.
The Outpatient Department having facilities with consultancy service remains open in both morning and evening shifts. The charges are very competitive for the affluent people while the very poor have access to treatment free or at minimum cost. The hospital has several contractual agreements with different agencies, organizations for the treatment of their employees.
This hospital has a good system of fire evacuation and control, central announcement system, and ensures full-time electricity by its own generator system. For effective communication with the on-call doctors' sufficient mobile phones have been provided to the duty doctors. It also has a computerized central register for the patients to find them out quickly. The hospital has a low cost (20 takas) outpatient services for poor patients on every working day.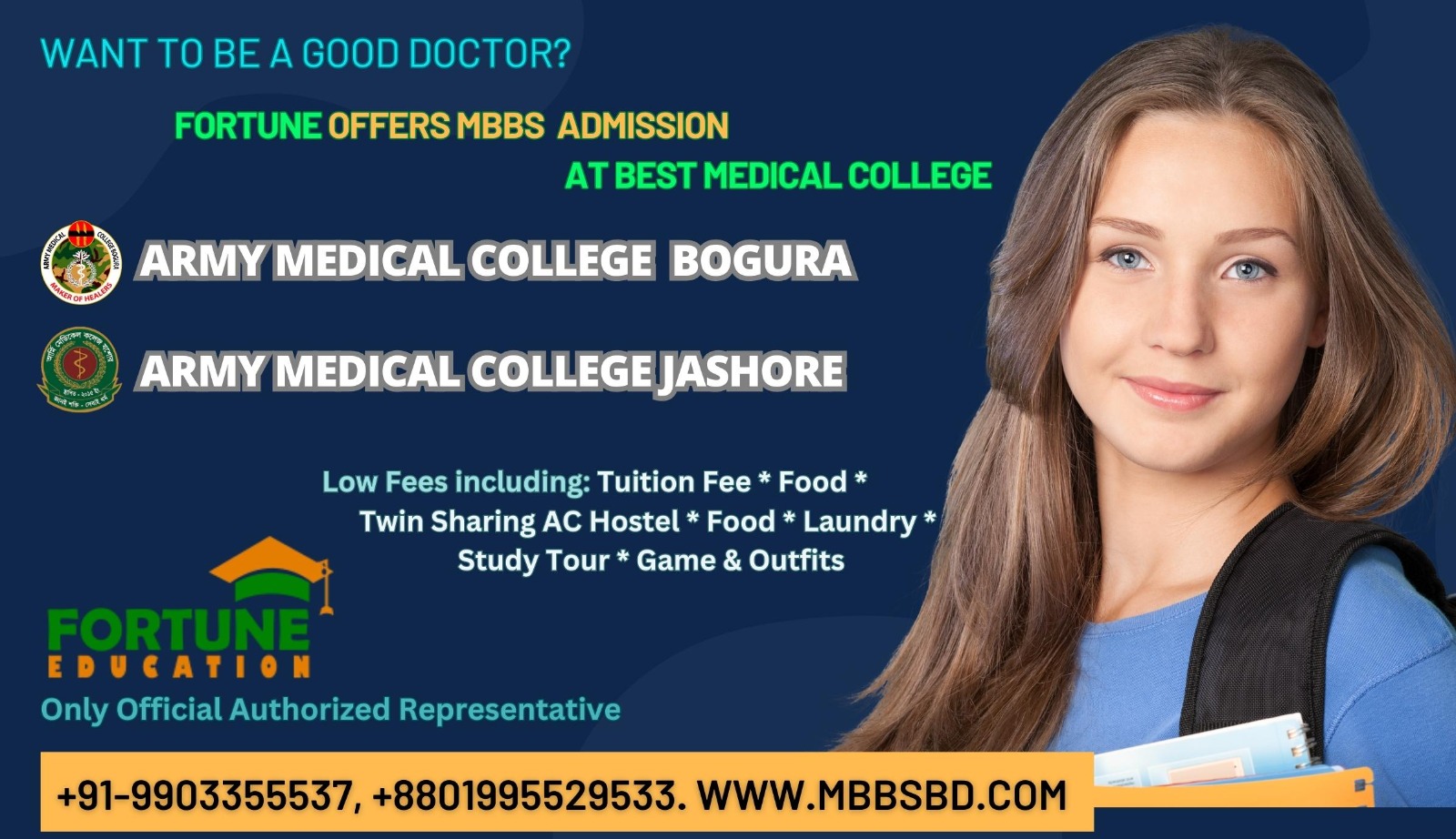 Authorized Representative
Fortune

Education
Official Website: http://www.mbbsadmissioninbangladesh.com/
Their Services for foreign students
♦ Offering MCI, WHO, IMED, BMDC & NMC Recognized College.
♦ Affordable fees structure & 5 years installment.
♦ Guidance for free Govt. / SAARC seats & special waiver.
♦ Counseling & On spot direct admission.
♦ Study loan assistance.
♦ Our maximum colleges are situated in the main cities.
♦ On-campus A/C, Non AC hostel, Playground, Mosque, Canteen & Bank available.
♦ Providing MCI, DGHS Eligibility/ Equivalence  Application with required documentation, admission, visa guidance, airport Pickup, college dropping & accommodation.
♦ Visa extension & further necessary support
Fortune Education
Paving the Way to South Kazakh Medical Academy for Aspiring Bangladeshi Medics
Introduction
In a time when global outreach and elite academic pursuits are at the forefront, Fortune Education stands as a beacon for Bangladeshi students with dreams of a medical career overseas. Holding the esteemed title of the authorized education consultant for South Kazakh Medical Academy (SKMA) in Bangladesh, Fortune Education flawlessly bridges the ambitions of Bangladeshi medical aspirants with the revered academic framework of SKMA.
The Legacy of Fortune Education
Rooted deeply in Bangladeshi soil, Fortune Education has carved a niche for itself by offering exceptional education consultancy services. Their unwavering devotion to guiding students on international educational ventures shines brightly through their precise counsel, in-depth pre-departure orientations, and relentless support during the course's tenure.
Esteemed Alliance with SKMA
The alliance of Fortune Education with South Kazakh Medical Academy speaks volumes about their zeal for top-notch education. This collaboration with one of Kazakhstan's premier medical institutions guarantees that Bangladeshi scholars gain unhindered entry to an elite medical syllabus, international learning experiences, and a diverse campus life that SKMA promises.
Roles and Commitments
Being the certified consultant, Fortune Education ensures:
Customized Counseling: They offer bespoke advisory sessions, making students comprehend SKMA's offerings and how they resonate with their future goals.
Facilitated Admissions: Handling everything from application form collation to document verification, Fortune Education makes the enrollment procedure effortless for scholars.
Orientation Before Departure: They set the stage for students, giving them a peek into Kazakhstan's culture, academic ethos, and day-to-day life.
Assistance On-site: On arriving in Kazakhstan, the ties of Fortune Education ascertain that scholars are provided with all necessary logistical and academic support.
Guidance Post Completion: Their dedication extends beyond the course's culmination. Fortune Education remains a guide, offering insights into further studies, career avenues, and more.
Commendations and Reflections
A plethora of accolades from Bangladeshi scholars at SKMA emphasizes the instrumental role of Fortune Education in their international academic expedition. From the onset of the enrollment process to acclimatizing in a novel nation, the unwavering assistance and guidance of the consultancy stand out prominently.
As South Kazakh Medical Academy's certified educational consultant for Bangladesh, Fortune Education has revolutionized the trajectory to international medical studies for Bangladeshi scholars. Their passion, proficiency, and sincere dedication to scholars' triumph position them as an irreplaceable partner in the pursuit of medical eminence on a global scale. Through their alliance with SKMA, they persistently nurture and realize the dreams of countless budding medics from Bangladesh, ensuring they are bestowed with an education that resonates with international benchmarks.