International Medical College
Army Medical Colleges & Fortune Education: A Premier Alliance
Welcome to the dedicated gateway for the exclusive alliance between Army Medical Colleges in Bangladesh and Fortune Education. As the singularly endorsed consultant, we take great pride in providing precise information and facilitating a smooth admissions journey for future medical professionals.
MBBS in Bangladesh
Who We Are
The Gold Standard in Medical Education Advisory
Fortune Education is honored to stand as the sole official advisor for Army Medical Colleges. This alliance is a testament to our unwavering commitment to excellence, providing transparent and trustworthy guidance to students embarking on their medical careers at these esteemed military medical academies.
Our Expertise Tailored Admission Strategy and Support
Effortless Admissions: Navigate the admissions landscape with ease, guided by our expert, step-by-step advice.
Informed Decisions: Receive detailed, accurate descriptions of academic programs, esteemed faculty, and the unparalleled educational environment at Army Medical Colleges.
Full-Spectrum Support: Rely on us from the initial form to your first day on campus. We're here to assist every step of the way.
Choosing Us the Definitive Choice for Medical Academic Excellence
Exclusive Representation: As the only consultant officially recognized by the colleges, our authority ensures your trust is well-placed.
Expert Insights: Gain a deep understanding of the principles, culture, and academic rigor of Army Medical Colleges, thanks to our exhaustive knowledge.
Focused on You: Our dedicated team is here to realize your vision of a medical career, ensuring a fluid and transparent process from start to finish.
Contact Fortune Education at +880 1995529533 for Fees Details
Note: Mentioned fees are approximate and they may change as per the change in currency.
At the time of admission, all students will need to pay a minimum of 1 (01) year hostel seat rent beforehand if they desire to measure during a hostel. Hostel accommodation fees are an equivalent as local students for one year. All students will clear their hostel seat rent before appearing within the 1st, 2nd, 3rd & Final professional MBBS examination. If they fail within the Final Professional MBBS Examination, they're going to need to pay US$ 800.00 (Eight hundred US Dollars) for every attempt altogether subjects and US$ 267.00 for every subject.
All students will clear their tuition & others fees goodbye they continue their regular courses. All students need to pay the other charges which can be imposed by the concerned authority associated with the MBBS course, like RFST, study tour, autopsy visit, etc.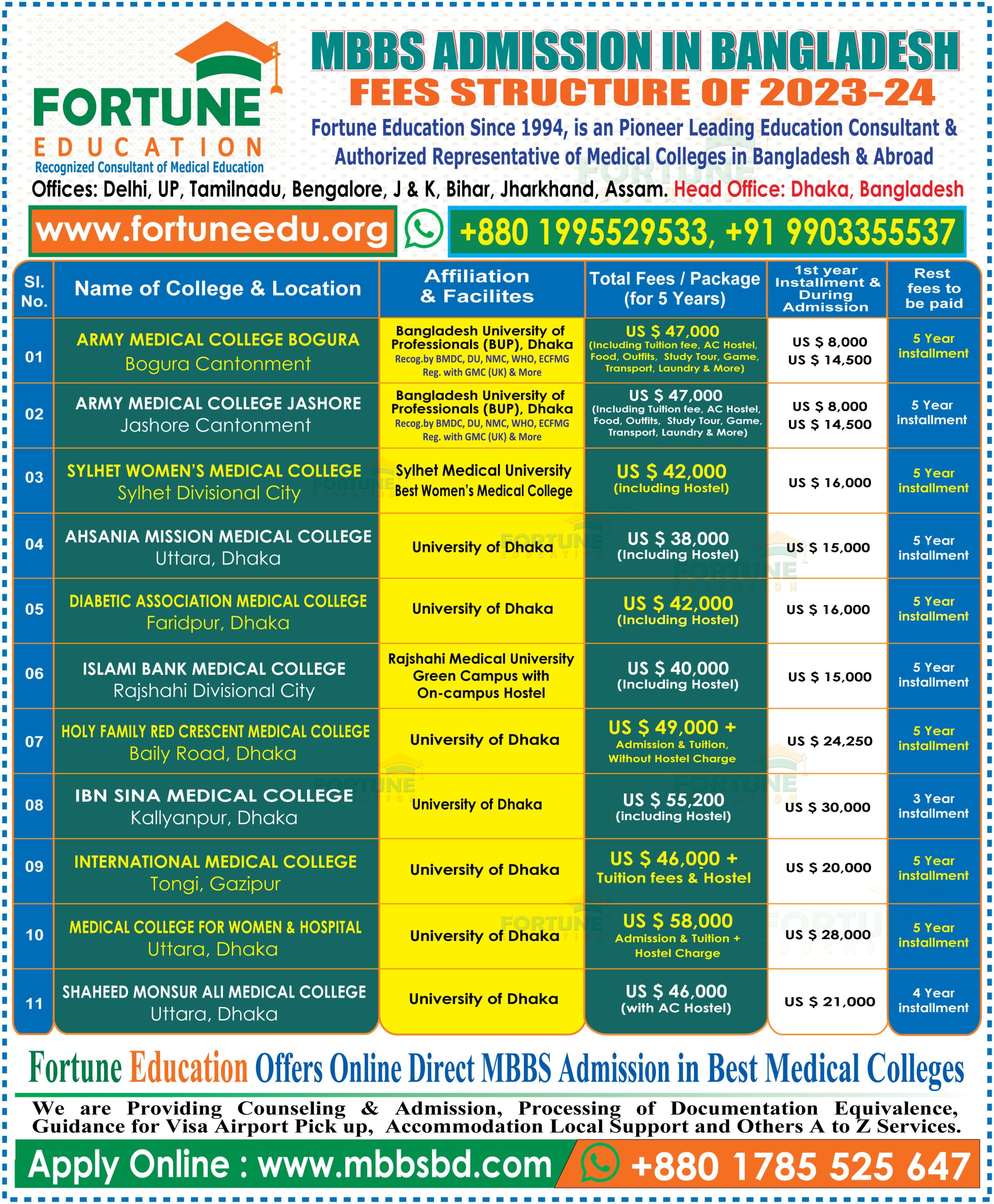 MBBS in Bangladesh 2024
MBBS admission in Bangladesh for international students, especially those from SAARC countries like India, Nepal, and others, generally follows these steps:
Eligibility Criteria:
Minimum 60% or GPA 3.5 in both SSC and HSC exams (or equivalent exams).
Must have Biology, Physics, and Chemistry as subjects in HSC or equivalent.
Some colleges might have a minimum age requirement.
Application:
Apply to the colleges/universities of your choice.
Required documents generally include SSC and HSC mark sheets, passport, photographs, and other relevant academic certificates.
Entrance Exam: Some colleges might require international students to take an entrance exam.
Direct Admission: Some universities offer direct admissions based on the academic credentials and without an entrance test for international students.
Equivalence Certificate: Some students might need to obtain an equivalence certificate from the Dhaka Board or relevant authority in Bangladesh, ensuring that their academic qualifications are equivalent to that of the SSC and HSC exams of Bangladesh.
Medical Test: Once selected, students may have to undergo a medical check-up.
Admission Confirmation: Upon being selected, pay the necessary admission fees and other charges to confirm your admission.
Student Visa: Apply for a student visa at the Bangladesh Embassy/Consulate in your home country. You'll need the admission letter, passport, photographs, and possibly other documents.
Arrival & Commencement: Upon getting a visa, travel to Bangladesh and join the college/university. Some institutions may provide orientation programs for international students.
BMDC Registration: After completing the MBBS, it's crucial to get registered with the Bangladesh Medical and Dental Council (BMDC) to practice in Bangladesh.
Internship: Most institutions in Bangladesh have a mandatory one-year internship after completing the MBBS course.
Admission procedures and requirements may vary based on individual institutions and changes in government policies. Always refer to the official website of the medical college/university and consult the Bangladesh embassy/consulate for the most accurate and up-to-date information.