MBBS Admission 2023
Online Direct MBBS Admission by Fortune Education
Fortune Education, Dhaka, Bangladesh is World Leading & Pioneer Education Consultant of Medical college & universities. Providing MBBS, BDS , BVSc admission for  medical aspirants & prospective students who interested to study MBBS, BDS , BVSc and considering higher study opportunities in Bangladesh and overseas.
Fortune Education have legal rights to processing admission to Medical, Dental college and universities all over the world. We offer MBBS, BDS & others Admission, Application, Guidance, Documentation, and required services such as to eligible students regarding medical and higher studies…
Fortune Education invites students to register for MBBS & BDS admission with special Scholarships for Foreign Students.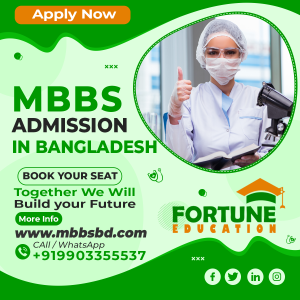 Why Choose Bangladesh?
In India, the cost of getting an MBBS degree from any private medical college with decent infrastructure is no less than ₹50,00,000, many times it crosses even a crore depending on which college or which part of the country you select. This is just donation fee we are talking about; regular tuition fee would be charged on top of that before every semester or every year.
The reason why MBBS in Bangladesh is the right choice for Indian students includes the following reasons:
Language
The major concern of many international students planning to pursue MBBS in Bangladesh is the language of the course in the selected foreign country. But you don't have to worry as in Bangladesh, you'll feel right at home. The medium of instruction in most universities is English which is a huge sigh of relief for Indian students.
Cost
Pursuing an MBBS in Bangladesh is cheaper than most of the study abroad destinations due to low medical fee and reduced expenses.
Currency
One of the major perks of studying MBBS in Bangladesh is the fact that the value of the currency is depreciated which will allow you to maintain your budget while roaming around the country seeing in its culture, food and beautiful location.
Food
The food in Bangladesh has a similar palate when compared to Indian cuisine. Also, you can find an Indian restaurant very easily in the country when you study MBBS in Bangladesh.
Travelling Cost
Being a neighboring country, the cost of travelling to Bangladesh is very low. It will cost you anything between 5000 to 10,000 to buy a plane ticket to Dhaka. Alternatively, you can also travel by train which plies between Kolkata and Dhaka.
Globally Recognized MBBS
Medical study in East Pakistan is the best choice for South-East Asian counterparts for its recognition. It has good recognition of it throughout the world. So for the recognition and reputation of MBBS, it has, it would be best if one does MBBS in Bangladesh.
Eligibility Criteria
One should not pass 10th class before 2020
The minimum required CGPA is 8.0 in SSC
The minimum CGPA is 3.5 in 12th
One must have a minimum of 3.5 GP in Biology
Courses and Curriculum
In Bangladesh, the courses are divided into 4 phases:
| | | |
| --- | --- | --- |
| Phase | Duration | Subjects |
| First Phase | 1.5 years | Anatomy, Biochemistry, etc. |
| Second Phase | 1 year | Community Medicine and Forensic Medicine. |
| Third Phase | 1 year | Pharmacology Therapeutics, Pathology, Microbiology, etc. |
| Fourth Phase | 1.5 year | Medicine, Surgery, Obstetrics and allied courses. |
In total these time divisions constitute to five years of time and the schedule of the MBBS is planned accordingly.
Benefits of Pursuing MBBS in Bangladesh
There is NO donation required to get admission in a Bangladeshi medical college.
The quality of infrastructure, education, and accommodation are comparably better to other developed countries.
There is no entrance test required for admission and the application process is quite simple to pursue MBBS in Bangladesh.
The hospitals are well equipped with great infrastructure and technology.
According to an agreement the students from SAARC nations need not pay the extra tuition fee in medical colleges.
MBBS in Bangladesh: Fee Structure 2023-24
The fee of pursuing MBBS h in any of the medical universities of Bangladesh is highly affordable, which is around 40 lakhs (including food and accommodation). However, the cost may vary depending on the university you choose and the kind of lifestyle you opt for.
Top Medical Colleges in Bangladesh
Here are some of the top medical colleges to pursue MBBS in Bangladesh:
Bangladesh University of Professionals
Location: Mirpur Cantonment, Bangladesh
This is the youngest university in Bangladesh and is administered by armed forces of Bangladesh. The main aim is to provide quality education for incoming students from different countries.
Gono Bishwabiddalay
Location: Ashulia, Savar, Dhaka, 1344, Bangladesh
Another option to consider for MBBS in Bangladesh is Gono Bishwabiddalay. This university is recognized in Savar and is well known among foreign medical students.
Shahjalal University of Science and Technology (SUST)
Location: University Ave, Sylhet, Bangladesh
One of the most distinguishing features for Shahjalal University of Science & Technology is that it offers PhD to the students. The university has been bestowed with varied titles like specialized institute for Science & Technology by virtue of the versatile colleges accessible at the university.
University of Dhaka
Location: Dhaka, Bangladesh
During British people dominion, this college was taken into account in the concert of the oldest universities within the country. It is a popular choice for pursuing MBBS in Bangladesh because of the high position in the ranking of the schools across Bangladesh in 2017. This university has also been included in the Top 100 Universities of Asia.
University of Rajshahi
Location: Rajshahi, Bangladesh
The ranking of this university was given by Bangladesh University States. The University of Rajshahi stood in third in the country. After that, the University of Rajshahi became the youngest and largest universities in Bangladesh.
Southern Medical College
Location: East Nasirabad, Khulshi, Chittagong
Another must-consider choice for MBBS in Bangladesh, this university helps in building their students' as skilled and observant medical graduates to become successful doctors in society. Many students had their graduation from this college, pursue there practice and profession in India.
University of Science & Technology Chittagong (USTC)
Location: Zakir Hossain Road, Foy's Lake, Khulshi, Chittagong
USTC is a non-public university that was started as the Institute of Applied Health Sciences (IAHS). Out of the whole strength around 1200 student's area unit from different countries like Bharat, Nepal, Malaysia, Sri Lanka, Bhutan, Jordan, Palestine, etc.
Khwaja Yunus Ali Medical College
Location: Enayetpur, Bangladesh
This university is affiliated to Rajshahi University for MBBS degree. It has another affiliation with Bangabandhu Sheikh Mujib for PG degrees. This university consists of non-profitable and is highly equipped with modern technology, which is why it is one of the most promising universities.
Dhaka National Medical College
Location: Dhaka
This medical college was acquired from its forerunner, which is the Dhaka National Medical Institute. It consists of almost a total of 1500+ graduate doctors. These doctors have passed out of college and they are working within India and also abroad. It is now considered amongst the top colleges to pursue MBBS in Bangladesh.
FAQs about MBBS in Bangladesh 
Q1. Is MBBS in Bangladesh expensive?
No, studying MBBS in Bangladesh is much cheaper than any other Government or Private College in India. Living and transportation expenses are also very affordable. It is actually a very good option for pursuing quality education at very low cost.
Q2. Is MBBS in Bangladesh approved by MCI?
Yes, MBBS in Bangladesh is recognized by the Medical Council of India (MCI). All government medical universities in Bangladesh are globally recognized by the MCI and the World Health Organisation (WHO).
Q3. Can one practise medicine in India after pursuing MBBS in Bangladesh?
The medical degrees provided by medical universities in Bangladesh are globally recognized and are accepted by every organisation in the industry. Candidates can practice medicine in India after pursuing MBBS in Bangladesh.
Q4. Does studying MBBS in Bangladesh allow one to do internships in India?
Candidates pursuing MBBS in Bangladesh are allowed to pursue internships in India. However, some colleges do not allow students to pursue an Internship anywhere else outside Bangladesh.
Q5. Is it necessary to learn Bengali to study MBBS in Bangladesh?
Though Bengali is the most-spoken language in Bangladesh, the medium of instruction for MBBS in Bangladesh is English. Thus, there is no need to learn other than on some basic levels for communication in Bengali.
Q6. What are the greatest advantages of pursuing MBBS in Bangladesh?
On completion of MBBS in Bangladesh, you can go to PG level without writing MCI test. Perfect medical science training is only completed when the student is exposed to a variety of disease types, and this type of excellent and identical exposure to medical diagnosis is given in the medical colleges of Bangladesh.
Q7. What are the other options to pursue MBBS apart from MBBS in Bangladesh?
There are various options to pursue MBBS from abroad apart from MBBS in Bangladesh. Such options include:
(Online /Direct Admission & Seat Confirmation)
FOR ADMISSION AND OTHER QUARRIES, CONTACT:
Authorized Representative
HEAD OFFICE :
DHAKA, BANGLADESH.
MOBILE & WHATSAPP: +88-01995529533
---
OFFICES IN INDIA:
MOBILE & WHATSAPP: +91-9903355537
WEST BENGAL, MODON MOHON STREET, KOLKATA,
PATNA, BIHAR, DELHI, JAMMU & KASMIR,
HYDERABAD, LUCKNOW, CHENNAI, AND GUWAHATI.
MBBS in Australia
MBBS in Russia
MBBS in Ukraine
MBBS in Canada
MBBS in the Philippines
MBBS in Georgia
MBBS in the Caribbean
MBBS in Germany
MBBS in China
MBBS in Kyrgyzstan
MBBS in Nepal
MBBS in Belarus
MBBS in Kyrgyzstan
MBBS in Nepal
MBBS in the Caribbean
MBBS in Poland
MBBS in Malaysia
MBBS in Europe
MBBS in Italy
MBBS in Romania
MBBS Admission in Bangladesh 2023 | Online Admission Policy – MBBS IN BANGLADESH (mbbsbd.com)